Briefing on Issuances in Relation to the COVID-19 Pandemic (as of April 19, 2020)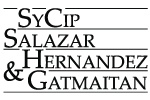 Footnotes:


This bulletin contains a summary of the items set out above. It was prepared by SyCip Salazar Hernandez & Gatmaitan (SyCipLaw) to update its clients with recent legal developments. This does not constitute legal advice or an opinion of SyCipLaw or any of its lawyers.

This bulletin is only a guide material and SyCipLaw makes no representation in respect of its completeness and accuracy. You should check the official version of the declaration and its implementing rules and regulations.

No portion of this advisory may be copied or reproduced in books, pamphlets, outlines or notes, whether printed, mimeographed, typewritten, copied in different electronic devices or in any other form, for distribution or sale, or reposted or forwarded without the prior written consent of SyCipLaw.
Link to article
Related Articles in
Taxation | Insurance | Financial Services
MEMBER COMMENTS
WSG Member:
Please login to add your comment.