New MECQ Guidelines Issued by the IATF; IPOPHL Re-Opens on May 25
Published: May, 2020
Submission: May, 2020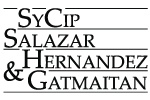 Related Articles in
Government & Public Sector
This is a briefing on the following issuances as of May 16, 2020 in relation to the COVID-19 pandemic:
The Inter-Agency Task Force for the Management of Emerging Infectious Diseases (IATF) has issued the Omnibus Guidelines on the Implementation of Community Quarantine in the Philippines dated May 15, 2020 (IATF Omnibus Guidelines) [1] to codify the existing policies of the IATF pertaining to the quarantine systems in place throughout the Philippines.
The full text is posted at https://www.officialgazette.gov.ph/downloads/2020/05may/20200515-omnibus-guidelines-on-the-implementation-of-community-quarantine-in-the-philippines.pdf.
This bulletin focuses on guidelines applicable to areas placed under Modified Enhanced Community Quarantine (MECQ) from May 16, 2020 to May 31, 2020, such as Metro Manila.


A. No Mandatory Testing for COVID-19 of Returning Workers
With respect to the testing of returning workers for an area under any type of quarantine system, including MECQ, Section 8(4) of the IATF Omnibus Guidelines provides that "[c]ompliance with Joint DTI-DOLE Return-to-Work Guidelines and DOH Return-to-Work Guidelines shall be considered sufficient compliance with minimum health standards. In no case shall the testing of all returning workers be construed as a condition precedent for his/her return."[2] There are no other specifics relating to this guideline, such as when testing should be done.

B. What is MECQ? New Normal?
Click here to continue reading this article.
Link to article
Related Articles in
Government & Public Sector
MEMBER COMMENTS
WSG Member:
Please login to add your comment.