Speaker at the 'Legal Vision Asia Pacific: Thailand During the Pandemic: Employers' organized by WSG
Peerasanti Somritutai
, partner was invited to be a speaker at the
Legal Vision Asia Pacific on the topic of Thailand During the Pandemic: Employers' Consideration
, a vlog series organized by the World Services Group (WSG). He provides insight on measures employers have implemented to protect employees and minimize redundancy in Thailand. And, address procedures for remote and in-office work arrangements based on latest government and legislative changes.
Key Takeaways from the vlog
For employee financial assistance, Social Security and employer-related welfare funds contributions have been reduced or made exempt.
Thai government has not imposed any requirement on employers to implement a work from home policy. It is at the employer's discretion.
Under the Thai law, each terminated employee is entitled to at least a one-month termination notice.
If you need to know more about this topic, contact Peerasanti Somritutai for more information.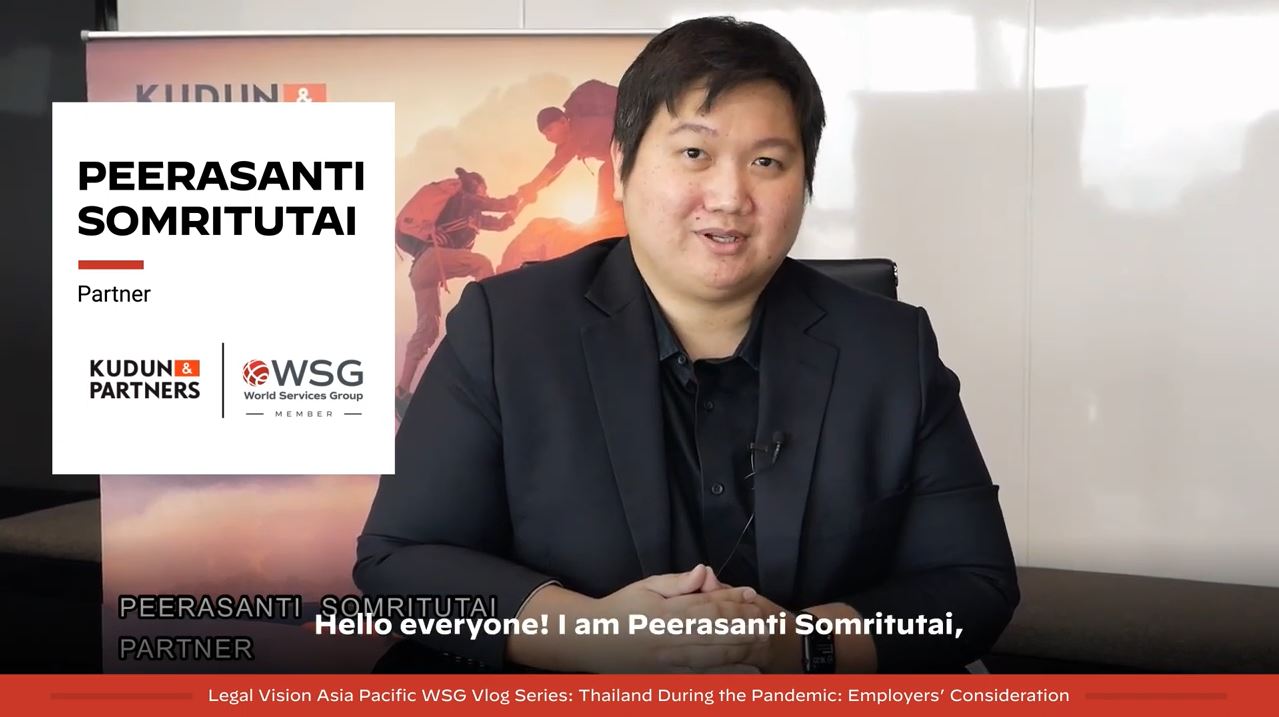 About WSG
Kudun & Partners is an exclusive member of World Services Group (WSG) representing Thailand, the leading global network comprised of elite and top-ranked global practice firms.
WSG is the globally recognized resource for professionals and their clients to receive the highest quality, value and service from legal, investment banking and accounting services. WSG provides members the ability to create new business opportunities and relationships to better serve their clients. There are more than 120 prominent member firms representing worldwide clients. Members operate in more than 115 countries and throughout the United States and Canada, reaching representation in over 150 jurisdictions globally. The network has become one of the most prominent global networks of leading independent firms offering access to over 23,000 individuals and a wealth of knowledge at your fingertips.
WSG's Vlog series focuses on important topics in different regions, with member firms and expert leaders providing valuable insights and perspectives.
The post Speaker at the 'Legal Vision Asia Pacific: Thailand During the Pandemic: Employers' organized by WSG appeared first on Kudun.
Link to article
MEMBER COMMENTS
WSG Member: Please login to add your comment.