SyCipLaw Authors Philippine Chapter of Latest Chambers Global Practice Guide on International Arbitration
September, 2022 - Marie Ingcoco, SyCip Salazar Hernandez & Gatmaitan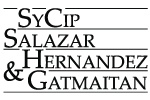 SyCip Salazar Hernandez & Gatmaitan (SyCipLaw) Partners
Ricardo Ma. P.G. Ongkiko
(Head of the Firm's Litigation Department),
Carlos Roberto Z. Lopez
, and
John Christian Joy A. Regalado
authored the Philippine chapter of the latest Global Practice Guide (GPG) on International Arbitration published by Chambers and Partners.
The Philippine chapter provides a general overview of Philippine arbitration laws and procedure and explains how Philippine arbitral institutions adapted to the COVID-19 pandemic. The chapter also discusses the recent pronouncements by the Philippine Supreme Court in Datem, Inc. v. Alphaland Makati Place, Inc. (G.R. No. 242904, February 10, 2021) and Global Medical Center of Laguna, Inc. v. Ross Systems International, Inc. (G.R. No. 230112, May 11, 2021) relating to Philippine construction arbitration, and raises issues that must be addressed to help transform the Philippines into a more marketable arbitration seat in Southeast Asia.
The International Arbitration GPG covers 60 jurisdictions, providing the latest legal information on the impact of COVID-19, arbitral tribunals, challenges to jurisdiction, preliminary and interim relief, collection and submission of evidence, confidentiality, types of remedies, enforcement and review of awards, class action, and third-party funding.
Read the Philippine chapter here.
MEMBER COMMENTS
WSG Member: Please login to add your comment.