IFLR: "Philippines: Acquiring Insurance Brokers"
Published: April, 2017
Submission: April, 2017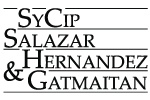 The April issue of the International Financial Law Review(IFLR) includes an international briefing article by SyCipLaw partner HiyasminH. Lapitan entitled "Philippines: Acquiring Insurance Brokers". The article discusses the new requirement by the Philippine Insurance Commission(IC) for advance approval to acquire a stake in a Philippine corporation that is licensed as an insurance broker or reinsurance broker. This requirement is noted in the IC's circular letter number 2017-09 dated February 14, 2017, which prescribes guidelines on the documentation requirements for acquiring a domestic insurance or reinsurance broker.
Read the article online at the IFLR website.
Link to article
MEMBER COMMENTS
WSG Member:
Please login to add your comment.