SyCipLaw Employment & Immigration Update 2017 Q1
July, 2017 - Rodelle Bolante, Leslie Dy, Marianne Miguel, Dante Pamintuan, Russel Rodriguez, Lozano Tan, Marietta Tibayan, Ronald Mark Lleno, Easter Princess Castro, Emmar Benjoe Panahon, Maria Viola Vista, Ruben Acebedo, Austin Claude Alcantara, Anna Loraine Mendoza, Bennet Gubat, Azyleah Ignacio, Danielle Mae Navarro, April Gayle Soller, Tania Stephanie Telow, Mark Kevin Dellosa, Lito Paolo Martin, Ramon Rocha IV, Nathaniel Andrew Uy, Anne Katherine Navarrete, Jericho Tiu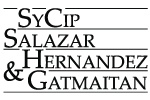 SyCipLaw''s Employment & Immigration Update (Volume XV, Issue 1) features updates and articles on issuances from the Department of Labor & Employment (DOLE), including the new guidelines on contracting and subcontracting, and the implementing rules and regulations of theAnti-Age Discrimination in Employment Act,the Data Privacy Act of 2012, and those governingthe employment and working conditions of collectors in the debt collection industry. The issue also contains summaries of Supreme Court decisions, labor and immigration updates, and other SyCipLaw resources and announcements.

SyCipLaw's Employment and Immigration Department (EID) represents clients in compulsory and voluntary arbitration as well as in adversarial and non-adversarial labor proceedings before labor agencies and the courts. It handles conflicts between labor and management, including strike disputes, mass action controversies, unfair labor practice cases and terminations of employment, both as part of the employee disciplinary process and as a direct result of corporate restructuring, dissolutions and plant closures. It has successfully assisted clients in satisfactorily concluding collective bargaining negotiations and manpower reorganizations involving strategic retrenchment, down-sizing and right-sizing.

EID services include labor audits, due diligence and the preparation and review of company policies, personnel manuals, rules and regulations. It also provide lectures and seminars on employment law and labor relations to senior executives and personnel managers in top corporations.

View or download a copy of the newsletter below.
MEMBER COMMENTS
WSG Member: Please login to add your comment.