Philippines: The Legal Landscape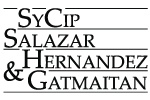 Country overview
1. Give an overview of the country's economy, its structure and main characteristics, and prevailing government economic policy, particularly as regards foreign investment.
The Philippines is an archipelago composed of more than 7,000 islands with 82 provinces divided in 18 regions. Rich in natural resources, it has a total land area of about 300,000 square kilometres. It is divided into three major island groups: Luzon, Visayas and Mindanao. Manila, the capital, is located in Luzon.
The Philippine economy grew in 2017, with an increase in its gross domestic product by 6.5 per cent in the second quarter of 2017 and 6.4 per cent in the first half of the year. Manufacturing, trade and real estate, renting and business activities contributed significantly to the economic growth in the country. With regard to the major economic sectors, the industry sector recorded the fastest growth at 7.3 per cent.
Foreign investments are gladly welcomed in the Philippines. However, there are restrictions on foreign investments in certain industries.
Legal overview
2. Describe the legal framework and legal culture in your jurisdiction as regards business and commerce.
The Philippines is a democratic state. It has a presidential form of government and power is equally divided among the three co-equal and independent branches:
Executive Branch, which is represented by the Office of the President;
Legislative Branch, which is composed of the Senate and the House of Representatives; and
Judicial Branch, which is composed of the Supreme Court and lower courts established by law.
The legal system of the Philippines is primarily a civil law system, but has also incorporated certain aspects of Anglo-American (common law) systems as well as customary usage.The rule of law is respected in the Philippines.
Link to article
MEMBER COMMENTS
WSG Member:
Please login to add your comment.