Philippine Chapter of the International Comparative Legal Guide to: Litigation & Dispute Resolution 2018
Published: February, 2018
Submission: February, 2018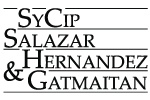 1.1 What type of legal system has your jurisdiction got? Are there any rules that govern civil procedure in your jurisdiction?
The Philippine legal system is primarily a civil law system, although it may be considered a mixed regime consisting of both civil andcommon law traditions. Civil procedure is governed primarily bythe 1997 Rules of Civil Procedure, or Rules 1 to 71 of the Rules of Court ("ROC"), and various issuances promulgated by the Supreme Court.
1.2 How is the civil court system in your jurisdiction structured? What are the various levels of appeal andare there any specialist courts?
The first level courts are: Metropolitan Trial Courts for metropolitan areas, Municipal Trial Courts in Cities for locations that are not part of a metropolitan area, Municipal Trial Courts in other municipalities, and Municipal Circuit Trial Courts for areas comprising municipalities that are grouped together (collectively,"MTCs"). MTCs generally exercise jurisdiction over civil cases involving claims the value of which does not exceed PhP 400,000or PhP 300,000 depending on the territorial jurisdiction of the court.
The Regional Trial Courts ("RTCs") are established in each region and consist of several branches. RTCs act as first level courts with general jurisdiction over cases outside the MTCs' jurisdiction andover appeals from decisions of MTCs. There are RTCs designated as special commercial courts and family courts.
The Court of Appeals is organised into 17 divisions. It reviews appeals from the RTC and quasi-judicial agencies. Two specialised courts that are on the same level are the Sandigan bayan, which hears cases against government officials for graft and corruption, and the Court of Tax Appeals, which generally has jurisdiction over tax and customs cases.
The Supreme Court is at the highest level of the judiciary, composed of 15 members that sit en banc or in divisions. It has the power to review judgments of lower courts and determine the existence of grave abuse of discretion by any government instrumentality.
There are also Shari'a Courts in Muslim regions that handle cases involving the Muslim code on personal law, which principally governs matters of marriage and inheritance.
1.3 What are the main stages in civil proceedings in your jurisdiction? What is their underlying time frame (please include a brief description of any expedited trial procedures)?
The main stages in civil proceedings are: (1) the filing of the complaint, issuance of summons and exchange of other operative pleadings, which generally takes three to six months; (2) referralto two-stage mediation, pre-trial and discovery, which could take six months to one year; (3) trial proper, which, depending on the complexity of the case, number of witnesses and other exigencies, could take anywhere from six months to three years; and (4) rendition of judgment, which could take from six months to two years. While the ROC prescribes periods for both litigants and thecourt throughout the process, these are very seldom observed inview of docket congestion and general inefficiencies of Philippine courts.
There are expedited trial procedures for small claims cases and summary proceedings. Small claims cases involve payment of money where the value of the claim does not exceed PhP 200,000, exclusive of interest and costs. Summary procedure is applied inall other civil cases, except probate proceedings, where the total amount of the claim does not exceed PhP 100,000 or PhP 200,000 depending on the territorial jurisdiction of the court.
1.4 What is your jurisdiction's local judiciary's approach to exclusive jurisdiction clauses?
Exclusive jurisdiction clauses which use language that leaves no doubt as to the intention of the parties to vest jurisdiction exclusively in another country are usually upheld as valid. However, despite the existence of exclusive jurisdiction clauses, Philippine courts tend to still take cognisance of cases when they involve matters of public interest such as labour cases. A Philippine court may also assume jurisdiction if it chooses to do so, provided that it is one to which the parties may conveniently resort to, is in a position to make an intelligent decision as to the law and the facts, and has, or is likely to have, power to enforce its decision.
1.5 What are the costs of civil court proceedings in your jurisdiction? Who bears these costs? Are there any rules on costs budgeting?
The costs of civil court proceedings include filing fees, counsel's legal fees, and witness and commissioner's fees as applicable. Costs are, as a general rule, borne by each party, but the court nevertheless...
Visit the SyCipLaw website for access to the full chapter.
MEMBER COMMENTS
WSG Member:
Please login to add your comment.