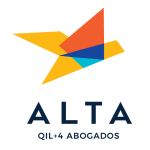 QIL+4 Abogados Advises Largest Green Bond Investment in Central America
QIL+4 Abogados, with the participation of our partners Alejandro Cofiño, Andrés Lowenthal, and associates Ignacio Grazioso and Enrique Martinez, acted as local counsel representing Investment Energy Resources Limited (Issuer) and Renace, S.A. (Guarantor).

The transaction involved $700M senior secured notes due 2029 issued by the Investment Energy Resources Limited and a refinancing debt for $300MM. This green bond investment is the largest ever of its type for Central America and the Caribbean.

CMI Energía is one of the largest renewable energy business in Latin America, focusing on wind, solar and hydro technologies and we are very proud to have worked with CMI in this innovative and impactful transaction.

This successful transaction has a positive impact for the environment and communities around us and we thank CMI for their support and trust.

"QIL+4's support of this transaction stood out from the norm. We have always seen QIL+4 as a strategic partner and they really lived up to this expectation in this complex transaction, supporting local law fronts as well as NY law seamlessly. CMI is grateful for QIL+4's top tier support and we look forward to our continued partnership in the future" commented Rodrigo Pemueller, Financial Structuring Manager, CMI Capital.