June, 2017 - Metro Manila, Philippines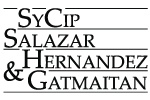 SyCipLaw to hold Labor and Immigration Kapihan in Subic
SyCip Salazar Hernandez & Gatmaitan, in coordination with the Subic Bay Metropolitan Authority – Labor Department and Subic Bay Workforce Development Foundation, Inc. (SBWDFI), will be holding the "Kapihan with SyCip in Subic: Updates on Labor and Immigration Law" on June 30, 2017, from 8:00 am onwards, at the Subic Bay Travelers and Events Center, Subic Bay Freeport Zone.

Topics that will be covered include data privacy in the workplace, post-employment issues and labor updates, and bridging cultural gaps. Breakout/consultation sessions will also be held after the program proper.

For more information and to register for the event, please contact the SWBDFI at (+6347) 252-4092 or 252-4494.