February, 2018 - Metro Manila, Philippines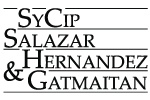 SyCipLaw supports "Sa Pagbasa, May Pag-asa" Storybook Donation Drive
SyCip Salazar Hernandez & Gatmaitan collected a total of PhP55,100.00 and 169 books in support of the "Sa Pagbasa, May Pag-asa" storybook donation drive. The campaign advocates the exposure of public school children to a wide range of creative, interesting, and age-appropriate reading materials, and, in so doing, instill in them a culture of reading that is critical to the learning and development process.

Upon consultation with the "Sa Pagbasa, May Pag-asa" project secretariat and representatives of the Department of Education (DepEd), the donations were distributed as follows: (a) PhP31,100 for the purchase of books to be donated to schools in Marawi City; and (b) 169 books and PhP24,000 for the purchase of additional books to be donated to one elementary school (Bangkal Elementary School) and two senior high schools (Maximo Estrella Senior High School and Nemesio Yabut Senior High School) in Makati City.

The sourcing of books and the delivery of books to be donated to Marawi schools will be handled by Philippine Business for Social Progress, one of the civil society organizations behind the "Sa Pagbasa, May Pag-asa" project.

For the Makati schools, the turnover of donations to the recipient schools was held on February 9, 2018, Friday, at 2:00 p.m. at the Bangkal Elementary School. The turnover ceremony included a storybook reading session with Grade 2 pupils led by SyCipLaw associate Dominique Marie Akio Therese P. Gana. SyCipLaw partner Jose Florante M. Pamfilo spoke on behalf of the firm.

Also present at the turnover ceremonies were DepEd Makati's Salome R. Ingua and Maria Sofie M. Berondo, Bangkal Elementary School Main Principal Jina U. Iligan, Maximo Estrella Senior High School Principal Ma. Julieta Cecilia G. San Jose, and Nemesio I. Yabut Senior High School Principal Eden F. Samadan.