---
Main Contacts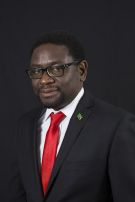 Charles C. MkokwezaManaging Partner
Other Offices
Addis Ababa Roundabout, Rhodespark, Zambia
Corpus Legal Practitioners's Overview

Corpus Legal Practitioners is a full-service corporate and commercial law firm in Zambia. Associated with the global law firm Dentons, Corpus advises local and international clients on banking and finance, M&A, capital markets, corporate, dispute resolution, and energy, resources and infrastructure matters. Our experience in guiding clients through complex commercial matters is grounded in our understanding of the Zambian market and the legal, regulatory and administrative regimes that govern it.

Corpus' clients are diverse. We focus on representing global mining companies on all aspects of their business, including market entry, licensing and regulation, project financing, disputes, divestiture and market exit. Our banking and finance team advises international lenders and sponsors in large-scale infrastructure projects in Zambia (including rail, power and hydroelectric). We also advise banks, development institutions and corporates in lending transactions and other investments in the growing Zambian market. Through our corporate advisory team, we advise companies and NGOs on the set-up and operation of their businesses in Zambia. We represent clients in commercial disputes in Zambian courts and international arbitration, and help them navigate the increasingly active field of Zambian and African competition law.

In addition to Dentons, Corpus is a member of the World Services Group and LexAfrica legal networks, and works with a range of other global law firms. These relationships provide our clients with seamless legal services across the jurisdictions where they do business.
Year this Office was Established: 1995
Lawyers Worldwide: 15
Languages: English
Representative Clients
Total Outre Mer
Barclays Bank of Zambia
Stanbic Bank Zambia Limited
Chibuluma Mines plc
Zambezi Resources
Equinox Group
Albidon Limited
Luanshya Copper Mines
Konkola Copper Mines plc
MTN Zambia Limited
Afgri Corporation Limited


Lafarge
Afgri Corporation Limited
Mpongwe Development Company Limited
Zambia Sugar plc
CDC Group plc
Kingdom Hotel Investments
Linklaters
Norton Rose
Illovo Sugar
Nanga Farms Limited
Konkola Copper Mines plc
CDC Group plc


© Corpus Legal Practitioners, 2016