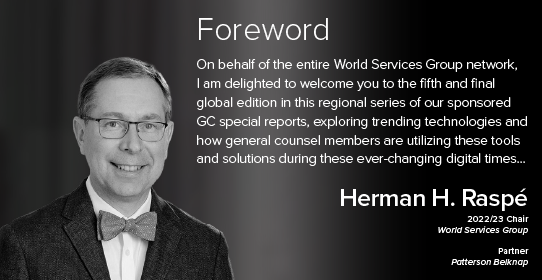 GC: In-House Technology – Global Edition
World Services Group in partnership with The Legal 500/GC Magazine, has published a global series report focused on how in-house counsel and their departments are impacted by trending legal technologies. Over 200 in-house counsel leaders participated in the extensive survey and in-depth feature interviews with global and regional industry experts. More >

---
---
GC: In-House Technology – Global Edition
January, 2023
World Services Group in partnership with The Legal 500/GC Magazine, has published a global series report focused on how in-house counsel and their departments are impacted by trending legal technologies. Over 200 in-house counsel leaders participated in the extensive survey and in-depth feature interviews with global and regional industry experts.
This current Global Edition is the final report of the global series that included regionally focused insights from Europe, Latin America, Asia Pacific and North America.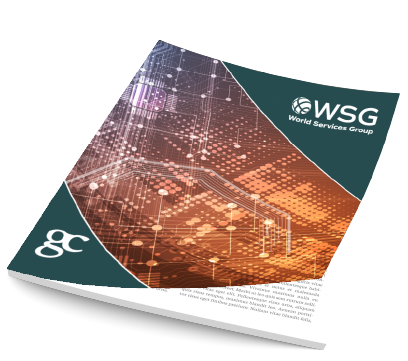 ---
Survey Highlights Include:
Adoption of Legal Technology
Has the turn to technology by your organization/legal department increased recently?
What purposes do you use legal technology for?
70% - Document Management
60% - Legal Research
47% - Accounting, Billing and/or Finance
40% - Case Management
40% - Legal AI Systems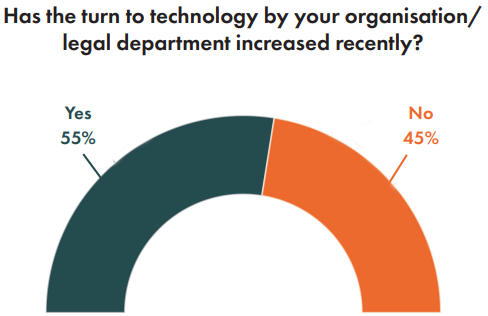 Challenges to the Implementation of Legal Technology
Do budgetary constraints represent the main obstacle to the adoption of legal technology?
Does your organization have a roadmap for the adoption of legal technology?
In-House Departments/External Firms Relationships
How important is it that external firms are up to date with technology?
92% - Very important or somewhat important
8% - Not important at all
Legal Technology and the Regulatory Framework
Do you feel the current regulatory framework concerning legal technology and AI is enough?
72% - Unsure or No
28% - Yes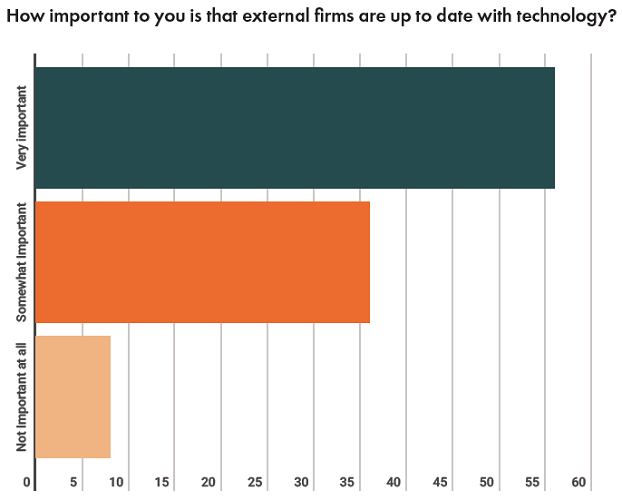 What do you think is missing?
81% - Awareness by Regulators
15% - Clear Policies in Place
4% - Ethical Guidance and Integrity
The Legal Department of the Future
Will there be more technology and fewer people?
32% - No
25% - Unsure
23% - Yes, Definetely
20% - Integration Between People and Technology
In which ways do you expect legal technology to impact the future of your legal department?
66% - Driving Efficiency and Timesaving
14% - No Real Change Expected
10% - Entirely
7% - Saving Costs
3% - Establishing Metrics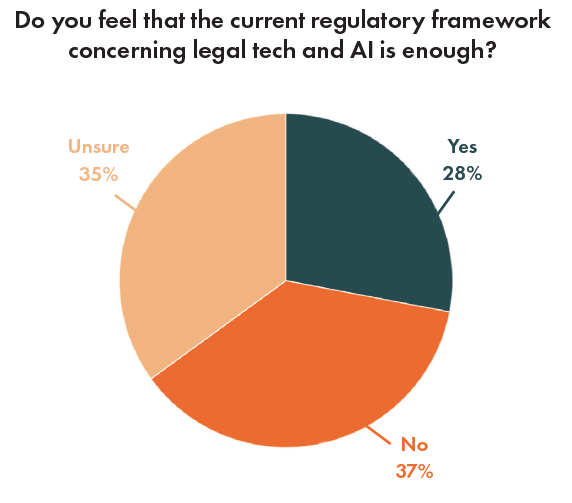 To access the full report, click here.