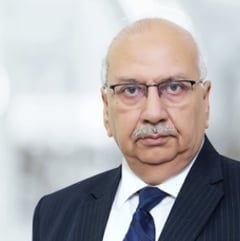 Shahid Khan
Senior Partner

New Delhi, India
Local Time: Wednesday 09:26
Practice Expertise
Taxation (Direct & Indirect)
Areas of Practice
Taxation (Direct & Indirect)
WSG Practice Industries
WSG Leadership
Profile
Shahid is a Senior Partner and Heads the Direct Tax practice in the Firm. He is a former Indian Revenue Service officer and has worked with the Indian Income Tax Department in various capacities. Immediately prior to joining the Firm, he was a Member of Central Board of Direct Taxes, the highest policy and decision-making body for income tax matters in the Government of India (GOI).
During his tenure of nearly 40 years with the Income Tax Department, he was recognised for his extensive knowledge of Indian tax laws, his efforts to modernise the department and his contribution towards framing policy related to critical income tax issues including international tax issues. He also has the experience of acting as an appellate authority on tax matters. Shahid was also associated with training senior officials of the Tax Department, many of whom are presently at the level of Commissioners and Additional Commissioners.
He has been an integral part of several policy making committees of the GOI and has also assisted tax departments of neighbouring countries such as Nepal and Bangladesh on tax policy and modernisation issues.
Shahid regularly advises leading multinational clients (including Fortune Global 500 companies) of the Firm on cross-border investment and transaction structures and planning around the group intellectual property assets. His focus areas include:
Analysis and interpretation of India's Tax Treaties ("DTAA") with different countries to provide efficient solutions for tax related structuring
Analysis of risks relating to arrangements being construed as Permanent Establishment in India, and devising possible ways to mitigate / minimise the same
Tax implications of 'indirect transfers' of Indian assets and related tax withholding issues
Evaluation of viable tax efficient route for cross border mergers and acquisitions, including issues relating to General Anti Avoidance Rules
Analysis and advice on transfer pricing issues and related aspects of arm's length pricing
Advice relating to Withholding tax issues under India's domestic tax laws, and India's Tax treaties with various countries
Devising solutions for tax-effective repatriation and exit arrangements, and
Structuring Salary, perquisites, and ESOP etc. of expatriate employees for minimising Indian tax liabilities
Shahid also represents Firm's multinational and domestic clients before the Authority of Advance Ruling, Income Tax Appellate Tribunal, and High Courts.
Bar Admissions
MS (Fiscal Studies) University of Bath (UK) 1989
LL.B, Bhopal University, 1986
Education
B.E, University of Roorkee, 1971

Areas of Practice
Taxation (Direct & Indirect)
Professional Career
Significant Accomplishments
Prime Minister's Award for Excellence in Public Administration for development of 'Integrated Taxpayer Data Management System' in Indian Income Tax Department 2009
Gold Icon of Department of Administrative Reforms Government of India for best e-Governance service delivery project
Certificate of Appreciation from Canada Revenue Agency in connection with an Indo-Canada project for modernisation of Indian Tax Department
Recommended Lawyer for Tax by Legal 500 (2020)
Recommended Lawyer for Tax by Legal 500 Asia Pacific 2022
Articles
Additional Articles
"No tax on foreign companies if no core activity", Indian Business Law Journal, October 2020
Faceless Assessment and Faceless Appeals Scheme Introduced by the Income Tax Department
India Union Budget 2020-Changes in the Provisions Relating to Educational Institutes, Hospitals, Trusts, etc., Engaged in Public Charitable or Research Activities
Recent Changes in the Provisions Relating to Not-for-Profit Organizations Proposed in the Finance Bill 2020
India Union Budget 2020-Unveiling Issues on International Taxation
India Union Budget 2020-Highlights of the Energy, Power & Infrastructure Sector
India Union Budget 2020-Highlights of the Healthcare & Pharma Sector
India Union Budget 2020-Tax Highlights of the Finance Bill,2020
Giving by One Hand Taking from the Other
It's Time to Pay Taxes Online
Panel Suggests CEIB to be Made Nodal Agency
Why Does ICC Hate to Pay Taxes
Chasing Black Money
Get Due Credit for Taxes Deducted
Copyrighted Software Not Taxable Royalty on Resale
Meet our Firms and Professionals
WSG's member firms include legal, investment banking and accounting experts across industries and on a global scale. We invite you to meet our member firms and professionals.