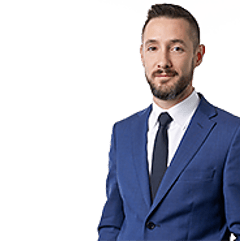 Adriano Antonietti
Partner

Practice Expertise
Corporate & Commercial
Financial Services
Industry & Commerce
Financial Products
Areas of Practice
Corporate & Commercial
Financial Products
Financial Services
Industry & Commerce
Banking, Finance & Insurance
Corporate / M&A
Mergers & Acquisitions
Private Equity & Funds
Regulatory
View More
Profile
Adriano Antonietti advises domestic and foreign banking and financial institutions, as well as collective investment schemes and asset managers on a wide range of matters, in particular regulatory issues, private placements, the drafting of banking contracts and certain tax related matters (FATCA, CRS). He also defends banks and their clients in a number of disputes and deals with all aspects of corporate and commercial law. His main fields include financial products and services, including regulatory aspects, as well as corporate and commercial matters.
In 2005, Adriano Antonietti obtained a law degree (lic. iur.) from the University of Fribourg. Before joining Walder Wyss he worked as a senior associate with another major law firm in Geneva and Zurich.
Adriano Antonietti speaks French, English, German, and Italian. He also has some fair knowledge of Russian. He is registered with the Geneva Bar Registry and admitted to practice in all Switzerland.
Areas of Practice
Corporate & Commercial
Financial Products
Financial Services
Industry & Commerce
Banking, Finance & Insurance
Corporate / M&A
Mergers & Acquisitions
Private Equity & Funds
Regulatory
Professional Career
Significant Accomplishments
ITS Kanal Services AG erwirbt die Künzli Gruppe
IFLR/Euromoney's Rising Stars Expert Guide 2022
IMMOFONDS acquires four real estates in Ticino
Bank J. Safra Sarasin AG acquires the remaining 42.5% of the Swiss online bank zweiplus ag
Expert Guides: Rising Stars 2021 published
Walder Wyss advises global aesthetic manufacturer Teoxane Laboratories on Exclusive U.S. Distribution Agreement of FDA-Approved RHA Dermal Fillers with Revance Therapeutics, Inc.
Beförderungen bei Walder Wyss
Nestlé S.A. acquires majority stake in Terrafertil
Bank J. Safra Sarasin AG and Banque J. Safra Sarasin (Luxembourg) S.A. entered into a final asset purchase agreement with Bank Hapoalim B.M., Israel, and Bank Hapoalim (Switzerland) Ltd
Migros erwibt Tipesca
Beförderungen bei Walder Wyss
J. Safra Sarasin Holding AG erwirbt Credit Suisse (Monaco) S.A.M. und Credit Suisse (Gibraltar) Limited
Walder Wyss eröffnet neue Standorte in Genf und Lausanne
Articles
Doing Business in Switzerland – A Practical Guide
Revisione del diritto societario svizzero
Révision du droit suisse des sociétés
Revision des schweizerischen Aktienrechts
Revision of Swiss Corporate Law
Revision des Schweizer Aktienrechts
Doing Business in Switzerland – A Practical Guide
COVID-19 | Pandémie de Coronavirus - Mesures d'aide économique
Meet our Firms and Professionals
WSG's member firms include legal, investment banking and accounting experts across industries and on a global scale. We invite you to meet our member firms and professionals.