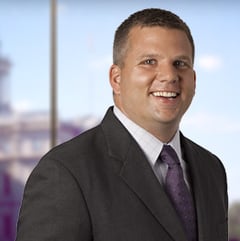 Andrew Doerr
Government Policy Advisor

Michigan, USA
Local Time: Saturday 04:05
Practice Expertise
Government Policy & Practice
Energy Regulatory
Health Care
Health Care Administrative Law & ...
Areas of Practice
Energy Regulatory
Government Policy & Practice
Health Care
Health Care Administrative Law & ...
Political Compliance, Elections & ...
Taxation
View More
Profile
Andrew H. Doerr is an accomplished government affairs professional, bringing 20 years of lobbying, legislative and political experience to Dykema's Lansing office. At Dykema, he focuses on issues related to: energy, insurance, procurement, regulated industries, corrections, education, local government, nonprofit representation, the Liquor Control Code, licensing, gaming, taxation, procurement and matters dealing with the Department of State among others. He is experienced in review, analysis and drafting of proposed legislation and has testified before numerous House and Senate Committees.
Prior to joining the firm Mr. Doerr served as Deputy Legislative Director and Legislative Liaison for Secretary of State Ruth Johnson. In this role he served as a conduit to Secretary Johnson to both the legislature and the Governor's administration. He was responsible for the Secretary's legislative agenda, including legislative drafting, moving bills through the legislative process, and implementation. Andrew also spent eight years serving as Senator Alan Sanborn's (R-Macomb) Chief of Staff. Focusing on public policy related to the Senators role as Chairman of the Economic Development and Regulatory Reform Committee along with office and personnel management. During his time with Senator Sanborn he also helped manage numerous political campaigns.
Mr. Doerr came to Dykema with years of direct lobbying experience, having served as the Legislative and Political Director for the Michigan Credit Union League (MCUL). While there he oversaw the MCUL's legislative team and worked to promote legislation that benefited credit unions and their industry at both the state and federal level. He was also responsible for PAC fundraising, Grassroots coordination and member advocacy efforts.
Education
Michigan State University, B.S.
Areas of Practice
Energy Regulatory
Government Policy & Practice
Health Care
Health Care Administrative Law & Regulatory Appeals
Political Compliance, Elections & Campaign Finance