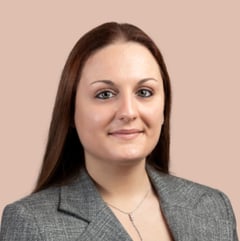 Practice Expertise
Investment Services & Funds
Areas of Practice
Investment Services & Funds
Profile
Anthea Sammut is an Associate at Mamo TCV Advocates, forming part of the Investment Services and Funds department.
Having joined the firm as a trainee in 2020, Anthea gained experience in commercial law, intellectual property law, and investment services and funds law. Having been a trainee with a governmental authority for more than two years, Anthea also gained experience in property law.
Anthea graduated from the University of Malta with a Bachelor of Laws (Honours) degree in 2020, after having successfully submitted her research paper entitled 'The General Data Protection Regulation as enhanced Control over Personal Data: Effective at ensuring adequate Protection for Data Subjects?'. In December of 2020, Anthea was inscribed in the Dean's List of the Faculty of Laws for the best performance throughout the Bachelor of Laws (Honours) course.
In 2021, Anthea obtained her Master of Advocacy degree with a distinction from the University of Malta. Subsequently, Anthea obtained her warrant to practise law before the Courts of Justice of Malta in September of 2022.
Education
Bachelor of Laws (Honours) (LL.B. (Hons.)) (2020, University of Malta)
Master of Advocacy (M.Adv) (Melit.) (2021, University of Malta)
Areas of Practice
Investment Services & Funds