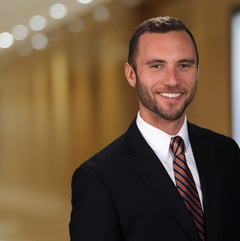 Benjamin Vernon
Associate

Georgia, USA
Local Time: Thursday 18:39
Practice Expertise
Capital Markets and Securities
Public Finance
Areas of Practice
Capital Markets and Securities
Public Finance
Profile
Ben's practice focuses on public finance and tax-exempt debt transactions involving governmental, private and non-profit entities.
Ben has experience with a wide variety of public finance transactions, serving as bond and disclosure counsel to cities, counties, school districts, and public authorities, as well as underwriters' and outside counsel to investment banks, non-profits, private corporations and conduit borrowers. He has experience working on tax-exempt and taxable financing structures involving the issuance of general obligation bonds, revenue bonds, certificates of participation through lease-purchases and installment sales, tax anticipation notes, and other debt instruments. Ben has served as special counsel in regard to continuing disclosure obligations under Rule 15c2-12 and tax consequences arising from public-private developments.

Ben's practice also involves working with governmental issuers and private companies on economic development projects and structured tax abatement transactions aimed to revitalize and improve local communities.
Relevant Experience
Bond and disclosure counsel to a county issuing revenue bonds for public infrastructure developments through its public facilities authority.
Bond counsel in a revenue bond issue involving an acquisition-refunding financing in connection with the sale of a jail.
Bond counsel to multiple counties issuing certificates of participation through ACCG's lease-purchase financing program.
Bond counsel to a county in a lease-purchase tax abatement transaction involving the construction of a large manufacturing facility by a private company.
Bond and disclosure counsel to a school district issuing general obligation sales tax bonds for various capital projects.
Education
BBA, University of Georgia, Finance, magna cum laude with honors, 2013
Areas of Practice
Capital Markets and Securities