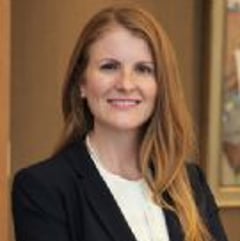 Practice Expertise
Antitrust and Competition
Class Action Defense
False Claims Act/Qui Tam
Foreign Corrupt Practices Act (FCPA)
Areas of Practice
Antitrust and Competition
Class Action Defense
False Claims Act/Qui Tam
Foreign Corrupt Practices Act (FCPA)
Government Enforcement and Litigation
Internal Investigations and Crisis Management
Litigation
Privacy and Data Security
Products Liability Litigation
SEC Enforcement
Securities and Shareholder Litigation
View More
Profile
High-profile individuals and companies across the country trust Emily Westridge Black to handle their most pressing crises. Emily handles high-stakes litigation matters, including class actions, products liability, and large commercial disputes. She specializes in obtaining early victories through motion practice and other creative means. For example, she obtained walk-away, voluntary dismissals in a price-gouging class action against a prominent grocer and a breach of fiduciary duty suit against a hedge fund and its principals. She obtained an early, favorable settlement of a Telephone Consumer Protection Act ("TCPA") class action. She also recently obtained summary judgment on behalf of a specialty retailer in suits against its payment card processor and its insurer, securing multi-million-dollar judgments in each case. Her creative, tenacious, and efficient approach to litigation has been recognized by Chambers USA for Commercial Litigation and by the Texas Lawyer, which named her "Attorney of the Year" in 2019.
Emily also helps clients investigate a range of sensitive allegations, including fraud and corruption, product safety concerns, and executive malfeasance. In recent matters, she led investigations into alleged Foreign Corrupt Practices Act ("FCPA") and UK Bribery Act violations by employees and agents of publicly-traded transportation, manufacturing, and software companies. She also represented an oil and gas services company in connection with a criminal investigation of alleged FCPA violations. Emily is also experienced in leading investigations into suspected data security incidents in diverse sectors, including retail, hospitality, healthcare, and energy.
Emily counsels clients on regulatory issues, including compliance with anti-corruption and anti-bribery laws. Clients benefit from Emily's experience working in-house at an international pharmaceutical company developing and implementing organization-wide anti-corruption initiatives that balance legal requirements with business objectives.
Emily is committed to serving the community. She has helped twelve individuals win humanitarian asylum. She also proudly serves on the board of directors for the March of Dimes of Central Texas.
Bar Admissions
Texas, 2007
Education
J.D., University of Texas at Austin School of Law, 2007, cum laude; Phi Delta Phi
B.A., University of North Carolina at Chapel Hill, 2003, cum laude; Phi Beta Kappa
Areas of Practice
Antitrust and Competition
Class Action Defense
False Claims Act/Qui Tam
Foreign Corrupt Practices Act (FCPA)
Government Enforcement and Litigation
Internal Investigations and Crisis Management
Litigation
Privacy and Data Security
Products Liability Litigation
SEC Enforcement
Securities and Shareholder Litigation
Professional Career
Significant Accomplishments
Counseled Fortune 500 manufacturing company on the defense of a $250 million products liability case brought by a downstream domestic products manufacturer. Provided strategic counsel regarding claims, defenses, and third-party claims. Oversaw development of factual record, including through intensive testing efforts undertaken jointly with plaintiff. Assisted client in strategizing for and obtaining favorable settlement of all claims and third-party claims.
Lead counsel for defendants in a putative class action alleging breach of fiduciary duty, aiding and abetting, and vicarious liability in connection with the failure of a hedge fund. Defeated class certification and obtained voluntary dismissal of remaining claims.
Internal investigation and remediation of a data security breach of an information technology solutions company; counsel client on the company's remediation efforts, disclosure obligations, and recourse against the former employee.
Internal investigation of data security breach at high profile specialty retailer that implicated payment card information and personal identifying information; counsel client on numerous post-breach issues including disclosure obligations, public disclosure, negotiation of fraud recovery and operational reimbursement fines and penalties with card brands, and related counseling regarding collateral litigation; counsel client on insurance coverage for breach-related expenses.
Internal investigation and remediation of a data security breach at a Fortune 200 transportation company; civil prosecution of entity responsible for the security breach.
Investigation of criminal spear-phishing attack used to steal funds from public oilfield services technology company; direct forensic investigation of attack; counsel client on disclosure obligations and remediation efforts.
Internal investigation of alleged FCPA violations made against a Fortune 200 company in connection with the construction of cross-border facilities.
Defense of the former CEO of an international technology company in an SEC enforcement action for options backdating.
Internal investigation on behalf of the audit committee of a national construction and restoration company regarding securities issues and fraud allegations.
Defense of an international freight forwarder under federal investigation for antitrust compliance issues.
Defense of a national multi-industry company in breach of warranty litigation.
Articles
Meet our Firms and Professionals
WSG's member firms include legal, investment banking and accounting experts across industries and on a global scale. We invite you to meet our member firms and professionals.