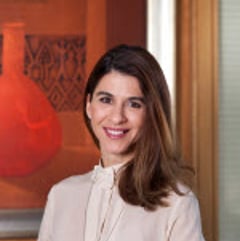 Evelina Georgiades
Director

Nicosia, Cyprus
Local Time: Saturday 02:17
Practice Expertise
Areas of Practice
WSG Practice Industries
WSG Leadership
Employment and Labor Group - Member
Mergers & Acquisitions Group - Member
Profile
Director of personnel and administration, Evelina Georgiades, joined the firm in 2007. She began her career at the University of Glasgow, in post-doctoral position at the Institute of Biomedical and Life Sciences and has had her research published in a number of peer-reviewed scientific and medical journals, and also presented at several international scientific conferences and meetings.
Her work at the firm includes marketing and business development, communications, human resource management, and administration.
Education
PhD (2000), Exercise Physiology & Biochemistry,
Glasgow University, United Kingdom

BSc (1996), Physiology and Sport Science (First Class Honours),
Glasgow University, United Kingdom

Professional Career
Significant Accomplishments
Professional Activities and Experience
Nov 2003 -Jan 2007 Director
Cyprus National Olympic Committee (NOC)
Nicosia, Cyprus
July 2000-Nov 2003 Research Associate in Clinical Exercise Physiology
Institute of Biomedical and Life Sciences
University of Glasgow
Glasgow, United Kingdom
May 2003-Nov 2003 Research Associate (part-time)
Department of Science, Nutrition and Diet,
Harokopio University,
Athens, Greece
Articles
Cardiovascular Function and Exercise Intolerance in Chronic Fatigue Syndrome.
Georgiades E, WMH Behan, Y Pitsiladis, A Chaudhuri, L Kilduff, J Wilson, EE Mackie, SA Ward. Proceedings at Sydney International Conference. M.E./CFS: The Medical Practitioners' Challenge in 2001. Nov 2002, pp 163-169.
Chronic fatigue syndrome: new evidence for a central fatigue disorder.
Georgiades E, WMH Behan, L Kilduff, M Hadjicharalambous, EE Mackie, SA Ward, YP Pitsiladis. Clinical Science (2003), Vol 105 (2), pp 213-218.
Demographic characteristics of elite Ethiopian endurance runners.
Scott RA, E Georgiades, RH Wilson, WH Goodwin, B Wolde, YP Pitsiladis.
Medicine & Science in Sports & Exercise (2003), 35(10), pp1727-1732.
BMI distribution changes in adolescent British girls.
Georgiades E, JJ Reilly, E Stathopoulou, AM Livingston, YP Pitsiladis.
Archives of Disease in Childhood (2003), 88 (11), pp 978-979.
The effects of creatine supplementation on cardiovascular, metabolic and thermoregulatory responses during exercise in the heat in endurance-trained humans.
Kilduff L, E Georgiades, RH Minnion, M Mitchell, M Hadjicharlambous, D Kingsmore and YP Pitsiladis. International Journal of Sports Nutrition (2004), 14, pp 446-463.
The dominance of Kenyans in distance running.
Pitsiladis YP, Onywera VO, Geogiades E, O'Connell W, MK Boit.
Equine and Comparative Exercise Physiology (2004), 1(4), pp 285-291.
Y Chromosome Haplogroups of Elite Ethiopian Endurance Runners.
Moran CN, Scott R, Adams SM, Warrington SJ, Jobling MA, Wilson RH, Goodwin WH, Georgiades E, Wolde B, YP Pitsiladis.
Human Genetics (2004), 115(6), pp 492-497.
.
Mitochondrial DNA Lineages of Elite Ethiopian Athletes.
Comp Biochem Physiol & Mol Integr Physiol (2005), 140(3), pp 497-503.
Influence of caffeine on perception of effort, metabolism and exercise performance following a high fat meal.
Journal of Sport Science (2006), 24(8), pp875-887
Meet our Firms and Professionals
WSG's member firms include legal, investment banking and accounting experts across industries and on a global scale. We invite you to meet our member firms and professionals.