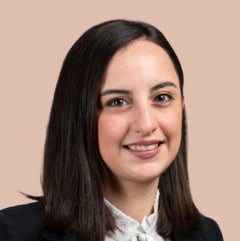 Jeanine Schembri
Associate

Practice Expertise
Shipping & Yachting
Corporate & Commercial
Areas of Practice
Shipping & Yachting
Corporate & Commercial
Insurance & Reinsurance
Litigation & Dispute Resolution
Real Estate & Construction
View More
Profile
Jeanine is an Associate at Mamo TCV Advocates working with the firm's Corporate and Commercial department. She joined the firm in July 2021. Prior to joining the firm, she worked as a Legal Associate in the legal department of a Corporate Services Provider where she gained experience in corporate law, mergers and acquisitions, shipping law and aviation related matters.
She holds a Bachelor of Laws (Honours) degree awarded by the University of Malta in 2017 after the successful submission of her research paper entitled 'A Study on the effect of Judicial Discretion in Quantifying Child Maintenance in Malta: Should there be a Systematic Mathematical Calculation?'. Subsequently, she sat for and graduated with a degree in Master of Advocacy in 2018 and was admitted to the Maltese Bar in 2019.
Jeanine's main areas of practice at the firm include certain aspects of insurance and inheritance, general commercial, corporate and property law. She is also actively involved in handling claims before the Office of the Arbiter for Financial Services (OAFS).
Jeanine is fluent in Maltese, English and has basic knowledge of Italian.
Bar Admissions
Admitted to the Maltese Bar, Superior Courts of Malta (2019)
Education
Bachelor of Laws (Honours) (LL.B. (Hons.)) (2017, University of Malta)
Master of Advocacy (M.Adv) (Melit.) (2018, University of Malta)
Areas of Practice
Shipping & Yachting
Corporate & Commercial
Litigation & Dispute Resolution
Real Estate & Construction
Professional Career
Significant Accomplishments
Attendance at board meetings and shareholder's meetings and taking of minutes, advising the said companies on different legal and regulatory aspects
Handling of claims before the Office of the Arbiter for Financial Services (OAFS)
Handling of disputes in relation to insurance policies
She has also handled shipping transactions such as sale, transfer, deletion.