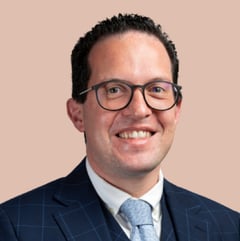 Jonathan Abela Fiorentino
Partner

Practice Expertise
Litigation & Dispute Resolution
Areas of Practice
Litigation & Dispute Resolution
Corporate & Commercial
WSG Practice Industries
WSG Leadership
Dispute Resolution Group - Member
Emerging Leaders Group - Member
Profile
Jonathan Abela Fiorentino is a Partner at Mamo TCV Advocates. He obtained his Doctoral degree in Law from the University of Malta in 2006 having successfully submitted a thesis entitled "The Legal Protection of Databases". Jonathan furthered his studies and obtained a Magister Juris in European and Comparative Law also from the University of Malta in 2007 after submitting a dissertation entitled "The Definition of a Trademark".
Jonathan was called to the Bar in January, 2007 and after practicing mainly in the field of Intellectual Property Law for a number of years, in January 2015 he joined Mamo TCV, where his main areas of practice are mediation and ADR, litigation (particularly corporate), and general civil and commercial law.
In 2021, Jonathan obtained certification as Accredited Mediator in civil and commercial matters, having successfully completed the London School of Mediations' International Accredited Civil and Commercial Mediation Training Course, and subsequently registered as Accredited Mediator at the Malta Mediation Centre.
Bar Admissions

Admitted to the Maltese Bar, Superior Courts of Malta (2007)
Education
B.A. Legal and Humanistic Studies (2003, University of Malta)
Doctor of Laws (2006, University of Malta)
Magister Juris in European and Comparative Law (2007, University of Malta)
Areas of Practice
Litigation & Dispute Resolution
Professional Career
Significant Accomplishments
In the past years, he has represented and continues to represent the competent authority in Malta on anti-money laundering and financing of terrorism, in appeals filed by subject persons against the imposition of administrative penalties by the authority. Indeed, Jonathan successfully represented the same authority in one of the first appeals of this kind in which the subject person was ordered to pay a substantial penalty by the Court for breach of the relevant laws and regulations
Retained as lead counsel for a well-established local company operating in the jewellery industry assisting it in the various legal matters it encounters, particularly matters of a commercial law and regulatory nature
Acts as lead counsel in Malta for an established foreign company involved in the business of trading and logistics for crude oil and petroleum products in a number of judicial proceedings in Malta, some of which having a cross-border element, and including proceedings for the recognition and enforcement of foreign judgements, decisions and arbitral awards
Represented foreign and local clients, including companies and banks, in a myriad of corporate disputes and judicial proceedings of a corporate and commercial nature, including liquidation proceedings and proceedings related to unfair prejudice of shareholders, as well as successfully assisted clients through settlement negotiations avoiding judicial proceedings
Acted for and represented applicant, a foreign company, in liquidation proceedings against a local company, in which the Civil Court (Commercial Section) embraced the legal arguments made by the applicant company and delivered a landmark decision on what constitutes a bona fide dispute in the context of insolvency proceedings and also on what constitutes a creditor with reference to the nature of the credit on which the demand for liquidation is based in relation to contingent and prospective liabilities for the purposes of determining inability to pay debts
Professional Associations
Malta Chamber of Advocates
Malta Mediation Centre
Meet our Firms and Professionals
WSG's member firms include legal, investment banking and accounting experts across industries and on a global scale. We invite you to meet our member firms and professionals.