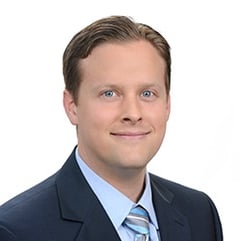 Joseph M. Welch
Shareholder

California-Southern, USA
Local Time: Thursday 06:29
Practice Expertise
Insolvency & Financial Law Group
Litigation
Real Estate
Areas of Practice
Insolvency & Financial Law Group
Litigation
Real Estate
Mortgage Lending
Profile
Joseph M. Welch is a Shareholder and Co-Chair of the firm's Agribusiness/Agrifinance group, where he helps clients address the sector's challenges in supply chains, financial volatility, risk mitigation, and other business issues. Mr. Welch leverages extensive experience in real estate, insolvency, restructuring, bankruptcy, and related litigation to provide clients with expert insights and strategies. He is a Certified Bankruptcy Specialist, an elite designation from The State Bar of California Board of Legal Specialization. Mr. Welch also holds a California real estate broker license.
Mr. Welch counsels clients across a range of industries, including lending, leasing, and real estate. He has served as lead counsel in representing investors, large banks, and international and Fortune 100 companies. He conducts training seminars and presentations on trending legal topics throughout the country. Before practicing law, Mr. Welch was the principal of a real estate and mortgage brokerage.
Highlights of Mr. Welch's practice include:
Creditor counsel: represent creditors in all aspects of bankruptcy and insolvency matters, including numerous adversary proceedings and contested matters across the country;
Secured lending: document numerous multimillion-dollar loan transactions secured by personal and real property collateral, enforce UCC rights, and litigate competing security interests;
Outside general counsel: advise agricultural companies supervising all transactional and litigation matters (from routine matters to deals over $1 billion);
Trial attorney: experienced first-chair counsel in cases won on circumstantial evidence; lead counsel on a complete defense of over $48 million in alleged claims against clients in both federal and state courts;
Unlawful detainer actions: resolve complex/commercial unlawful detainer actions, including an award of prevailing attorneys' fees and costs for defending one action at almost $1.4 million;
Appellate counsel: act as lead counsel on appeals before the federal district court, Ninth Circuit Court of Appeals, and California Court of Appeal.
Bar Admissions

California
Washington
Oregon
Education

Loyola Law School
Brigham Young University
Areas of Practice
Insolvency & Financial Law Group
Professional Career
Significant Accomplishments
Represent committees of unsecured creditors and equity interest holders in overseeing all debtor operations and maximizing recoveries.
Represent largest unsecured creditor in successfully opposing motions to (1) dismiss chapter 11 bankruptcy case, (2) convert chapter 11 case to one under chapter 7, (3) appoint a chapter 11 trustee, and (4) obtain relief from stay so lenders could foreclose on the estate's primary assets (intended to provide payment in full plus interest for all unsecured claims).
Represent secured parties in asserting cash collateral rights and maximize recoveries in chapter 11 bankruptcy cases.
Represent national distributor of batteries in asserting recoupment/setoff rights and defending against turnover demands totaling over $30 million.
Prepare intercreditor and subordination agreements involving some of the largest crop and working capital lenders in the world.
Represent a distributor in acquiring a majority interest in an avocado grower.
Represent a marketer in acquiring ownership in table-top strawberry productions.
Represent parties in diversifying supply chains with ownership stakes in international companies with year-round production of key produce categories.
Represent marketer/lender in successfully asserting claims against growers/borrowers and competitors for (1) declaratory relief (involving competing security interests and competing marketing/distribution rights), (2) breach of contract, (3) tortious interference, (4) breach of loan documents and promissory notes, (5) unjust enrichment, and (6) conversion.
Prepare warehouse agreements for cold storage and dry-pack facilities across the country.
Handle disputes involving crop quality and related losses, including with the Fruit and Vegetable Dispute Resolution Corporation.
Document loans to finance a grower's multimillion-dollar cherry packaging facility from an international manufacturer.
Articles
Additional Articles
Ag "Distributor" Cannot Use PACA Trust to Jump Ahead of First-Lien Creditor, Circuit Court Rules
Buchalter Client Alert COVID-19: Feeding America in Crisis and Protecting Agribusiness
Consignment, the UCC, and You – Protecting Your Goods and Their Proceeds
Ag Lenders Face New PACA Liability Over the Substance of Transactions
Intellectual Property Overview For Agribusiness
Regulatory and Product Liability Overview for Distributors of Food Products in California
The Consumer Financial Protection Bureau (CFPB): The New Federal Landscape For Lenders and Servicers
9th Circuit Allows Certain Consensual Liens to Be Avoided In Chapter 7 Bankruptcy; Still, the Devil is in the Details
Think Again Before Walking Away from Second Trust Deeds in Bankruptcy
Litigation in the Courts: Getting the Square Peg into the Round Hole
Meet our Firms and Professionals
WSG's member firms include legal, investment banking and accounting experts across industries and on a global scale. We invite you to meet our member firms and professionals.