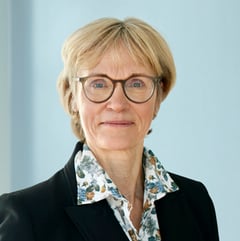 Practice Expertise
Employment and Labour Law
Public Law (Constitutional Law and ...
Areas of Practice
Employment and Labour Law
Public Law (Constitutional Law and ...
Public Law
WSG Practice Industries
WSG Leadership
Employment and Labor Group - Member
Profile
Lise Høy Falsner is a partner in our Employment and Labour Law team.
Lise has extensive experience with regard to employment and labour law and advises private, public, and semi-public businesses, including advice on restructurings, redundancies, collective agreement interpretation, working time regulations, EU law regulations, anti-discrimination rules, etc.
Her vast experience with regard to litigation and arbitration proceedings makes Lise a much sought-after attorney to conduct cases involving employment and labour law cases before the Danish High Courts, the Danish Supreme Court, the Labour Court, the Civil Servants' Court, and before industrial arbitration tribunals.
Lise also gives advice with regard to public servants, including civil servants and civil service-type employees, conducts legal investigations regarding employee relations, and serves as arbitrator within employment and labour law.
Moreover, Lise has widespread teaching experience and is a popular lecturer with respect to courses and conferences on employment law.
Highlights
In the period 1997-2017 Lise was involved in several cases of general public importance before the Danish Supreme Court and the Danish High Court as well as industrial arbitration proceedings concerning the legal status of public-sector employees on behalf of public authorities.
Supreme Court Case - case at the Danish Supreme Court in September 2022 regarding the legitimacy of a dismissal of a follower of the Seventh-day Adventist Church who refused to work on a Saturday 
Local authority - represented a local authority in a case of general public importance concerning alleged ageism before the Danish Eastern High Court (2017)
Business Academies - represented a Danish business academy in a case about limitation of actions before the District Court and then before the Danish Eastern High Court (2017)
Vocational schools - represented several vocational schools in cases before the Danish Board of Equal Treatment, among others, about alleged violation of the Danish Act on Prohibition of Discrimination in the Labour Market (2015-2019)
The Danish Act on the Transfer of Undertakings and calls for tenders - a case before the Danish Eastern High Court about the liability of the contracting entity in connection with outsourcing (2016)
The Danish Supreme Court - a case before the Danish Supreme Court about equal treatment and the employer's access to employees' emails (2015)
The Danish Civil Servants' Court - cases about rules on the classification of civil servants (2015 and 2016)
University - represented universities in a case before the Danish High Court about the dismissal of an employee working under a supported employment arrangement (2018)
Private businesses - represented private businesses in a large number of legal proceedings and arbitration proceedings on employment law during the period 2011-2020
Bar Admissions

Danish Association for Labour and Employment Law
Danish Association for Employment Lawyers
Danish Supreme Court Bar Association
EELA (European Employment Lawyers Association)
Education
1997 Admitted to the Supreme Court
1992 Admitted to the High Court
1992 Admitted to the bar
1989 Master of Laws, University of Copenhagen
Areas of Practice
Employment and Labour Law
Public Law (Constitutional Law and Administrative Law)
Professional Career
Professional Activities and ExperienceAccolades
2022 Whos Who Legal
2021 2022 Legal 500
2022 Chambers Europe
2020 2021 Whos Who Legal
2021 Chambers Europe
2020 Legal 500
2019 Legal 500
2018 Legal 500
2017 Whos Who Legal
2016 Whos Who Legal