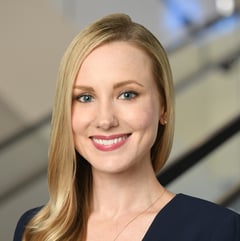 Practice Expertise
Areas of Practice
WSG Practice Industries
WSG Leadership
WSG Coronavirus Task Force Group - Member
Profile
Meredith W. Caiafa is Partner in the firm's Employment and Litigation Practices. Ms. Caiafa works closely with corporate clients to provide counseling and representation with respect to employment, executive compensation, and restrictive covenants matters. In particular, she helps her clients achieve their business goals by providing legal advice and analysis regarding federal and state employment laws, human resources issues, and executive compensation in connection with corporate mergers and acquisitions. Ms. Caiafa also negotiates and drafts employment-related contracts, including executive employment agreements, separation and change-in-control agreements, restrictive covenants agreements, and retention and bonus arrangements. In addition, she offers guidance to corporate clients regarding multi-state employment concerns, including compliance, policy and procedure reviews, hiring and separation, pay, and restrictive covenants.
Ms. Caiafa's practice also includes representing clients in litigation matters regarding restrictive covenants, employment contracts, compensation, and employment discrimination. Ms. Caiafa has experience in all aspects of complex litigation, including arbitration, mediation, and trial work in state and federal courts. She also specializes in appellate practice, particularly in federal courts of appeals and the Georgia Court of Appeals and Georgia Supreme Court.
Prior to entering private practice, Ms. Caiafa served as a judicial clerk for Judge Emilio M. Garza on the U.S. Court of Appeals for the Fifth Circuit, and for Judge Orinda D. Evans on the U.S. District Court for the Northern District of Georgia.