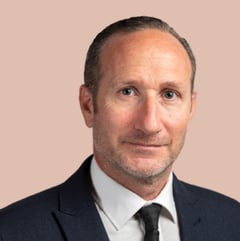 Practice Expertise
Corporate & Commercial
Employment & Labour
Litigation & Dispute Resolution
Mergers & Acquisitions Insolvency
Areas of Practice
Corporate & Commercial
Employment & Labour
Litigation & Dispute Resolution
Mergers & Acquisitions Insolvency
Energy & Resources
Gaming & Betting
Planning & Environment
Procurement
Real Estate & Construction
Shipping & Yachting
Tourism, Leisure & Hospitality
View More
Profile
Stephen Muscat is a Partner in the litigation department within Mamo TCV Advocates, assisting a number of clients, both corporate and individuals within the commercial and civil law sphere, involved in court-related, arbitration and other tribunals work. Apart from dispute-resolution work, Stephen also practices extensively within the general commercial and civil law sphere. Being specialized in shipping law, Stephen is retained regularly by operators in the field. In his practice, Stephen regularly deals and dealt with a myriad of issues for a diverse portfolio of clients, some of which are leaders in their field and high-net individuals, operating within the wholesale and retail, construction, services, hotel, oil, gas, shipping and other industries.
Bar Admissions

Admitted to the Maltese Bar, Superior Courts of Malta (1998)
Education
Degree of Doctor of Laws (1997, University of Malta, Malta)
Masters Degree in International Maritime Law (1997, International Maritime Law Institute, Malta)
Areas of Practice
Corporate & Commercial
Employment & Labour
Litigation & Dispute Resolution
Mergers & Acquisitions Insolvency
Energy & Resources
Gaming & Betting
Planning & Environment
Procurement
Real Estate & Construction
Shipping & Yachting
Tourism, Leisure & Hospitality
Professional Career
Significant Accomplishments
Sole and exclusive counsel in all litigation matters involving a public company which is the leader in the beverage and food industry. Stephen was recently involved in a series of court cases, concerning the recovery of immovable property in a prime site for development, which court cases were decided favourably for clients
Lead counsel within Mamo TCV in all litigation matters involving another public company which is a leader in the distribution of liquefied petroleum gas (LPG) in cylinders and in bulk. The said public company recently obtained a landmark judgment in which the court recognised the ownership of the gas cylinders in favour of the operator who would have introduced the same gas cylinders on the market
Lead counsel within Mamo TCV in all litigation matters involving another public company, operating within the telecommunications sector and enjoying the biggest market share in Malta
Regularly involved in insurance claims for two of the biggest players within the industry (both public companies and one of which enjoys the biggest market share), with special emphasis on personal injury claims and disclaimers based on non-disclosure of material facts at the time of contracting of the insurance policy. Very recently, a judgment was delivered in favour of the insurer against the heirs of the assured who were claiming under a life policy. The court found in favour of the insurer since the deceased was found to have failed to disclose material facts relative to his medical condition pre-dating the contracting of the same life policy
Acted as lead counsel for one of the biggest hotel chains worldwide which was involved in litigation in Malta against one of its franchisees in respect of a management agreement. The court found in favour of clients on the basis of a plea based on the existence of an arbitral clause
Professional Associations
Chamber of Advocates, Malta
Member of the Complaints' Board within the Malta Football Association
Meet our Firms and Professionals
WSG's member firms include legal, investment banking and accounting experts across industries and on a global scale. We invite you to meet our member firms and professionals.