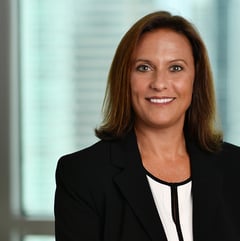 Florida, USA
Local Time: Thursday 19:34
Practice Expertise
Banking and Finance
Capital Markets and Securities
Asset-Backed Securitization
Corporate
Areas of Practice
Asset-Backed Securitization
Banking and Finance
Capital Markets and Securities
Corporate
Financial Institutions Corporate and ...
LIBOR Transition
Mortgage REITs
Real Estate Capital Markets
Residential Mortgage-backed Securities
Structured Finance and Securitization
Warehouse and Structured Lending, Gestation ...
View More
Profile
Tina is a seasoned lawyer whose current practice focuses on structured and corporate finance.
Tina has a demonstrated ability to advise clients on complex matters involving a broad spectrum of business, legal, regulatory, risk management and compliance issues. She has significant in-house and large firm experience advising clients on structured and corporate finance, including debt, equity and mortgage- and asset-backed securities. This experience gives her direct insight into client needs and expectations for cost-effective and practical legal advice.
Prior to joining the firm, Tina served as general counsel for independent risk at a large US financial institution. In that role, she advised the independent risk organization on legal issues affecting risk management policies and practices, including corporate governance requirements and on regulatory reform related to risk management, enhanced prudential standards for systemically important financial institutions, orderly liquidation of large financial institutions and Basel Committee standards. She also played a leading role in the institution's US recovery and resolution planning.
Before serving as general counsel for risk, Tina advised the institution's corporate treasury on global financing programs, including commercial paper facilities, issuances of US covered bonds and synthetic credit-linked notes, securitizations of US, UK, Korean and Malaysian residential mortgage loans, HELOCs, student loans, auto loans and credit cards, and issuances of short and long-term debt in the US, Latin America, Europe, Australia and Thailand. Before that, Tina worked at several large, international law firms.
Relevant Experience
Represents lenders, borrowers and securitizers in assessing and addressing the risks of LIBOR transition and the adoption of alternative rates, including SOFR.
Advises lenders on new model documents implementing alternative rates, including all SOFR variants.
Represents Ginnie Mae in the issuance of securities pursuant to its government guaranteed multiclass securities program and in enhancements to the program, including the adoption of LIBOR replacement provisions and new SOFR issuances.
Advises on addressing the risks of COFI transition and the adoption of alternative rates.
Represents borrowers and lenders in mortgage warehouse facilities, including repurchase facilities.
Represented issuers, underwriters and asset sellers in public and private offerings of securities backed by US and foreign commercial and residential mortgage loans, HELOCs, manufactured home loans, auto loans and leases, student loans, credit cards and REMIC securities.
Represented the financial guarantor in the first US triple-net lease securitization with a revolving master trust structure.
Played a key legal role in launching a major investment bank's European CMBS platform through securitizations of French, German and UK commercial mortgage loans.
Represented underwriters and domestic and foreign issuers in US public and private offerings of debt and equity securities, including mortgage and hybrid-REIT IPOs, medium-term note programs for Brazilian banks, and offerings of trust preferred securities by Italian banking groups.
Education
BA, Clemson University, cum laude, 1993
Areas of Practice
Asset-Backed Securitization
Banking and Finance
Capital Markets and Securities
Corporate
Financial Institutions Corporate and Regulatory
LIBOR Transition
Mortgage REITs
Real Estate Capital Markets
Residential Mortgage-backed Securities
Structured Finance and Securitization
Warehouse and Structured Lending, Gestation Finance and Early Buyout (EBO) Facilities