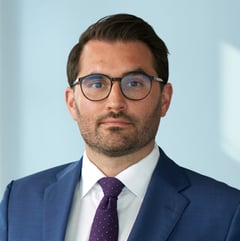 Copenhagen, Denmark
Local Time: Tuesday 16:47
Practice Expertise
EU and Competition Law
Dispute Resolution
Areas of Practice
Dispute Resolution
EU and Competition Law
WSG Practice Industries
WSG Leadership
Antitrust Group - Member
Mergers & Acquisitions Group - Member
WSG Coronavirus Task Force Group - Member
Profile
Daniel Barry is a specialist in EU and competition law.
Daniel has extensive experience within all areas of Danish and EU competition law, including cartels, horizontal cooperation agreements, distribution agreements, abuse of dominance, merger control, state aid and competition law compliance, and continuously acts on some of the most complex and high-profile competition law cases.

Daniel focuses primarily on complex competition law litigations, including Danish and EU cartel cases and abuse cases and Danish and multi-jurisdictional follow-on damages cases. His experience includes participation in the European Commission's leniency programme and settlement procedure; coordination of criminal/administrative procedures in various foreign jurisdictions, including the US; and management and coordination of follow-on damages actions in various jurisdictions, including Denmark, Germany, the UK, the US, Canada and Israel. Daniel has been involved in the filing of a number of negative declaratory actions ("torpedoes"), which had not previously been used in Denmark in competition related damages actions.

Daniel is Chairman of the Competition Law Committee for the Association of Danish Law Firms and a member of the Board of the Danish Competition Law Society.
Highlights
Ørsted - representation in relation to the successful appeal of decisions from the Danish competition authorities regarding alleged abuse of dominance in the form of excessive pricing and assistance in relation to related damages actions involving more than 1100 business. The case complex is the largest ever in Denmark
Danfoss - representation in relation to the Refrigeration Compressors cartel case complex, including representation in relation to the European Commission's investigation, leniency programme and settlement procedure; coordination of criminal/administrative investigations in multiple foreign jurisdictions and representation in and coordination of follow-on damages actions in multiple jurisdictions
Trucks - representation of an international truck manufacturer in relation to follow-on damages actions relating to the Trucks cartel 
Tryg - merger control and competition law assistance in relation to Tryg's possible multi billion pound acquisition of parts of RSA Insurance Group
Nissan Nordic Europe - representation in relation to stand-alone damages action regarding refusal of access to qualitative selective distribution system for after sale services
Predatory pricing - representation of a company in the financial sector in relation to a stand-alone damages action regarding alleged predatory pricing
Repayment of state aid - representation of an international clean-energy company in relation to a claim for repayment of alleged over-compensation for the operation of services of general economic interest (pursuant to the Public Service Decision)
CRT cartel - representation of an international home electronics manufacturer in a damages action relating to the CRT cartel
Skandinavisk Motor Co (Semler) - representation in relation to a follow-on damages action relating to abuse of dominance on the spare parts market
The Association of Danish Law Firms - advising the Association of Danish Law Firms in relation to complaint about Karnov for abuse of dominance through, inter alia, excessive pricing
Weber-Stephen Nordic - competition law advice regarding implementation of a qualitative selective distribution system in the Nordic Region
Novo - assistance with merger filings in multiple jurisdictions regarding investment in ERT together with Nordic Capital
Bluegarden - merger control and competition law advise to Marlin Equity Partners in relation to acquisition of Bluegarden and subsequent sale to Visma
Verisure - competition law advise in relation to acquisition of Falck's alarm business in Denmark, Norway and Sweden and subsequent cooperation in Denmark and Norway
Lessor - merger control and competition law advise to Lessor Group and its owners in relation to sale of Lessor Group to Axcel
Education
2012 PG Diploma in EU competition law, King's College London
2011 Admitted to the bar
2008 Master of Laws, University of Copenhagen
2005 University of Singapore
Professional Career
Professional Activities and ExperienceAccolades
2022 Legal 500
2022 Chambers Europe
2020 2021 Legal 500
2021 Chambers Europe
2017 2018 2019 2020 WhosWho
2018 2019 Legal 500
2016 2017 2018 LMG guides
2017 Legal 500