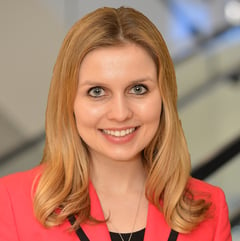 Emma Peterson
International Trade Analyst

Washington D.C., USA
Local Time: Thursday 04:18
Practice Expertise
Areas of Practice
Profile
Emma Peterson is an International Trade Analyst in the firm's International Trade practice. She conducts economic analysis on issues in anti-dumping and countervailing duty investigations and assists in the preparation of briefs and questionnaire responses at the U.S. Department of Commerce and International Trade Commission.
Prior to joining the firm, Ms. Peterson worked as an economic consultant, specializing in providing analysis for unfair trade proceedings conducted before the International Trade Commission. Ms. Peterson has experience developing and analyzing databases, conducting in-depth quantitative analyses, and preparing expert testimony and presentations. She has presented economic testimony before the International Trade Commission on numerous occasions. Ms. Peterson also has experience performing analysis on economic issues in intellectual property, antitrust, and other complex litigation.
Ms. Peterson graduated from Pomona College with a B.A. in Economics and Politics. She is currently pursuing her Master's of Business Administration at the George Washington University School of Business and will be graduating in 2020.
Education
Pomona College, Bachelor of Arts (B.A.), 2014