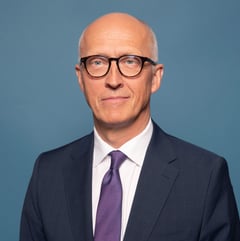 Practice Expertise
Corporate and M&A
Communications, IT and media
Data protection
Data Protection (GDPR)
Areas of Practice
Communications, IT and media
Corporate and M&A
Data protection
Data Protection (GDPR)
China Desk
Commercial Contract Law
FinTech
Intellectual Property
Intellectual property law
Intellectual Property Rights
IT and Data Security
IT and Digitalisation
IT, data protection and data security
IT, Privacy and Data Security
Media and Entertainment
Mergers and Acquisitions (M&A)
Privat: Space Law
Space Law
Technology and Telecom
Telecom and Media
Telecoms and Media
View More
WSG Practice Industries
WSG Leadership
DealMaker Group - Member
Intellectual Property Group - Member
Technology, Media & Telecommunications Group - Member
Profile
Espen Tøndel's main areas of expertise are within IT, telecoms, IP and M&A. He has experience with heading large procurement projects and has broad international experience.
Espen's areas of expertise are generally where technology and the law intersects and more specifically digitalization, IT, telecoms, satellite sector, IP and M&A. His experience includes heading large procurement projects and transactions within the technology space.
Digitalization is at the core of his practice, which includes work within ConstrucTech, FarmTech, FinTech, ShipTech, including working with the first autonomous battery-driven vessel in the world. He has broad international experience and works with major market players.
Areas of Practice
Communications, IT and media
Corporate and M&A
Data protection
Data Protection (GDPR)
China Desk
Commercial Contract Law
FinTech
Intellectual Property
Intellectual property law
Intellectual Property Rights
IT and Data Security
IT and Digitalisation
IT, data protection and data security
IT, Privacy and Data Security
Media and Entertainment
Mergers and Acquisitions (M&A)
Privat: Space Law
Space Law
Technology and Telecom
Telecom and Media
Telecoms and Media
Meet our Firms and Professionals
WSG's member firms include legal, investment banking and accounting experts across industries and on a global scale. We invite you to meet our member firms and professionals.