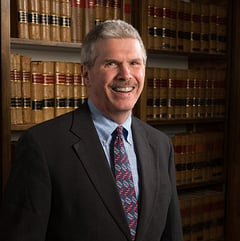 Hugh Wellons
Of Counsel
Chair, Community Banking Group

Practice Expertise
Corporate & Business Law
Mergers & Acquisitions
Banking & Finance Law
Community Banking
Areas of Practice
Banking & Finance Law
Community Banking
Corporate & Business Law
Mergers & Acquisitions
Commercial Lending
Mergers & Acquistions
Securities
Tax Credits
Technology
View More
Profile
Mr. Wellons's primary areas of practice are corporate law, banking and finance law, securities, and biotechnology law. He also chairs the community banking practice group.
Bar Admissions

Admissions
Education

Duke University, B.A., 1978
Duke University, Fuqua School of Business, M.B.A., 1979
Washington & Lee University, J.D., 1987
Areas of Practice
Banking & Finance Law
Community Banking
Corporate & Business Law
Mergers & Acquisitions
Commercial Lending
Mergers & Acquistions
Securities
Professional Career
Significant Accomplishments
Counseling a large variety of businesses, including large public companies, small closely-held businesses and financial institutions
Advising clients on matters such as corporate governance, mergers and acquisitions, securities and regulatory compliance, and biotechnology
Handling mergers and acquisitions, securities filings, regulatory compliance and corporate governance issues for community banks in Virginia, North Carolina and West Virginia
Serving as lead counsel on approximately 10 initial public offerings, 5 secondary public offerings, 20 acquisitions by larger companies and 10 private offerings
Serving as lead counsel on approximately 15 financial institution mergers
Serving as lead counsel on regulated industry transactions, including transactions in energy and financial sectors
Preparing Hart-Scott-Rodino filings and other anti-trust filings for the Department of Justice
Articles
Publications & Presentations
Editor, ABA book, Biotechnology and the Law, Second Edition
Senior editor and author of ABA book, Biotechnology and the Law: A Primer
Meet our Firms and Professionals
WSG's member firms include legal, investment banking and accounting experts across industries and on a global scale. We invite you to meet our member firms and professionals.