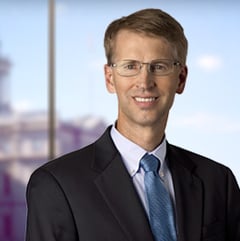 Michigan, USA
Local Time: Saturday 04:57
Practice Expertise
Business Services
Corporate Finance
Commercial Lending
Education
Areas of Practice
Business Services
Commercial Lending
Corporate Finance
Education
Government Reorganization and Restructuring
Long-Term & Post-Acute Care Providers
Mergers & Acquisitions
Mergers & Acquisitions Annual Survey
Private Equity, Venture Capital & ...
Public Finance
View More
Profile
James P. Kiefer is a public finance, private equity, banking and corporate finance attorney who practices from Dykema's Lansing Office. His unique specialties provide an expansive set of legal skills to benefit clients in the public and private sector.
As bond counsel to the State of Michigan and its authorities, and as bond counsel to dozens of counties, townships, cities, villages, schools, institutions of higher education, public authorities and economic development corporations throughout Michigan, Mr. Kiefer is experienced in structuring complex public finance transactions to finance infrastructure projects, public buildings, cash flow borrowings and other public projects.
Mr. Kiefer has served as bond counsel or underwriter's counsel on public finance transactions totaling more than $10 billion over the last four years. He served as underwriters' counsel on the transaction recognized as "2012 Deal of the Year" by The Bond Buyer. His ability to structure complex financings has resulted in the successful implementation of a variety of infrastructure projects for Michigan communities including water and sewer systems, road projects, libraries, jails, courthouses, school facilities, college buildings and other public improvements.
On the corporate side, Mr. Kiefer delivers a creative, solutions-oriented approach in his representation of private equity firms, banks and middle market companies in investment, co-investment and lending transactions. He has been instrumental in helping clients structure some of the most complex private equity deals of the past few years, and also works with large and mid-sized clients on mergers and acquisitions, restructurings and other financial transactions. Mr. Kiefer brings more than 30 years of experience in regulatory, electronic funds transfer and commercial loan matters to the table for his clients in the banking and lending industries.
His career includes an appointment by the Michigan Attorney General as a Special Assistant Attorney General and he was appointed by the Governor of Michigan to serve as a member of the Michigan Ski Area Safety Board. He is a frequent speaker and panelist at public finance and banking conferences, including the Bond Attorneys' Workshops.
In addition to earning his J.D. (cum laude) from Indiana University and a B.A. (magna cum laude) from Hanover College, his M.B.A. from Indiana University has contributed to his ability to thoroughly understand his clients' business objectives and allows him to add strategic insight and perspective on financing transactions.
Mr. Kiefer previously served as a Member of the Executive Board of Dykema. While in law school, he was Executive Editor of the Indiana Law Review. 
Bar Admissions

Michigan, 1985
Education
Indiana University, J.D., cum laude Indiana University, M.B.A. Hanover College, B.A., magna cum laude
Areas of Practice
Business Services
Commercial Lending
Corporate Finance
Education
Government Reorganization and Restructuring
Long-Term & Post-Acute Care Providers
Mergers & Acquisitions
Mergers & Acquisitions Annual Survey
Private Equity, Venture Capital & Mezzanine Finance
Public Finance
Professional Career
Professional Associations
Served on the Public Finance Subcommittee of the State Bar of Michigan
Ingham County Bar Association
American Bar Association
National Association of Bond Lawyers
Articles
Meet our Firms and Professionals
WSG's member firms include legal, investment banking and accounting experts across industries and on a global scale. We invite you to meet our member firms and professionals.