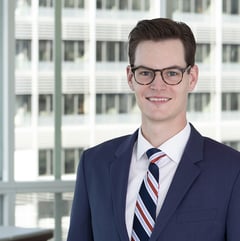 Practice Expertise
Areas of Practice
Chemicals, Products and Hazardous Materials
Endangered Species Act
Energy Transition
Environmental
Environmental Compliance, Litigation and ...
Natural Resources
Public Lands
Regulatory
View More
Profile
John maintains a diverse practice involving matters arising under a myriad of federal environmental statutes and regulations.
John has assisted on permitting, regulatory, and litigation matters arising under environmental statutes such as the Clean Water Act (CWA), the Endangered Species Act (ESA), and the Surface Mining Control and Reclamation Act (SMCRA), among others. In addition, he works closely on compliance matters related to chemical and toxic substances and waste under the Resource Conservation and Recovery Act (RCRA); the Federal Insecticide, Fungicide, and Rodenticide Act (FIFRA); and the Toxic Substances Control Act (TSCA). He has also performed environmental due diligence for solar energy projects.
John focuses his pro bono practice on the firm's Veterans Pro Bono program, in which he assists veterans on matters involving VA disability benefits, combat related special compensation, discharge upgrades, and correction of military records.
Prior to joining the firm, John served as a law clerk for the Honorable Matthew J. Fader, Chief Judge of the Court of Special Appeals of Maryland. He has also served as a legal extern at the US Department of the Interior, Office of the Solicitor, Division of Land Resources, and as a judicial intern for the Honorable Roderick C. Young, then-Magistrate Judge in the US District Court for the Eastern District of Virginia.
As a law student, John received several accolades for his legal research and writing skills, including the William & Mary Law Review Best Student Note Award in 2019 and selection as a Legal Practice Program Fellow, where he assisted program instructors in developing first-year students' legal research, writing, and practice skills.
Education
BA, The University of Chicago, History, with honors, 2013
Areas of Practice
Chemicals, Products and Hazardous Materials
Endangered Species Act
Energy Transition
Environmental
Environmental Compliance, Litigation and Defense
Natural Resources
Articles
Note, Defining "Unduly": Resolving Inherent Textual Ambiguity in the IMO's Ballast Water Management Convention, 60 WM. & MARY L. REV. 267
Report, Dredge Material Ownership: Rights and Reuse, Virginia Coastal Policy Center, William & Mary Law School
Navigating Environmental Justice Issues in Federal Permitting, Natural Resources & Environment, Volume 36, Number 2
Meet our Firms and Professionals
WSG's member firms include legal, investment banking and accounting experts across industries and on a global scale. We invite you to meet our member firms and professionals.