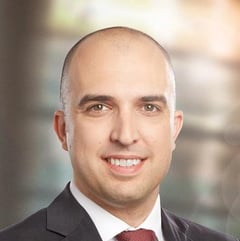 Quebec, Canada
Local Time: Tuesday 17:19
Practice Expertise
Commercial Litigation
Restructuring, Insolvency and Banking Law
Restructuring and Insolvency
Areas of Practice
Commercial Litigation
Restructuring and Insolvency
Restructuring, Insolvency and Banking Law
Profile
Partner - Leader of the Litigation and Conflict Resolution Group
Jonathan Warin is a member of the firm's Commercial Litigation Group and specializes in bankruptcy and insolvency, extraordinary remedies and realizing on security.
He regularly intervenes in various insolvency cases, whether to represent institutional lenders, trustees or debtors in a restructuring and liquidation context. Mr. Warin also handles commercial litigation cases of all kinds, particularly shareholder remedies and injunctions.
Mr. Warin is Head of Practice Litigation and Conflict Resolution.
Education

B.C.L., LL.B., McGill University, 2006
Areas of Practice
Restructuring and Insolvency
Restructuring, Insolvency and Banking Law
Professional Career
Professional Associations
Canadian Bar Association (Member of the Bankruptcy and Insolvency Committee of the Quebec division)
Young Bar Association of Montreal
Professional Activities and ExperienceAccolades
Best Lawyers 2021
Best Lawyers 2022
Lexpert 2022
Articles
Legal newsletter for business entrepreneurs and executives, Number 1
TPS et TVQ en cas de faillite : importante victoire des créanciers garantis
La Cour d'appel du Québec confirme la validité des clauses de remboursement des frais juridiques
CCAA: The use of credit bids at an auction is scrutiniezed by Quebec Courts
Farmers, drivers and debtors: The Supreme Court considers the conflicts between the Bankruptcy and Insolvency Act and several provincial statutes
Meet our Firms and Professionals
WSG's member firms include legal, investment banking and accounting experts across industries and on a global scale. We invite you to meet our member firms and professionals.