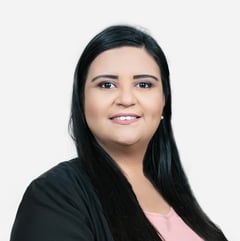 Managua, Nicaragua
Local Time: Wednesday 09:21
Practice Expertise
Areas of Practice
Corporate Law
International Trade
Labor Law
Public Law
Profile
Karla is an associate at Consortium Legal – Nicaragua with 9 years of legal experience advising private companies in corporate settings, as well as legal advice to the Banking sector to rule on assets subject to bank guarantees. She is an expert in registration procedures and company updating processes, currently she is responsible for the Final Beneficiary Registration procedures of commercial companies.
During her career she has worked in different areas of law, in 2013 she performed pro bono services in the Public Ministry of Nicaragua in the Specialized Unit for Gender Violence, receiving national and international training on addressing cycles of violence, managing victims and the public management of the prosecution body. Subsequently, for two years she provided tax advice to national and foreign companies in administrative and contentious-administrative procedures. Likewise, she has been part of corporate updates with the new regulations that have come into force in the area of the Public Mercantile Registry, including the new Registry of Final Beneficiary in which she currently works.
Education
- Diploma New Code of Civil Procedure of Nicaragua, Universidad Centroamericana UCA, Nicaragua (2017)

- Postgraduate in Procedural Law, Universidad Centroamericana UCA, Nicaragua (2016)

- Seminar Tax Law and Social Security, Universidad Centroamericana UCA, Nicaragua (2015)

- Law Degree, Universidad Centroamericana UCA, Nicaragua (2014)
Professional Career
Significant Accomplishments
Karla has led the registration procedures and updating processes of companies in terms of the Final Beneficiary Registry, which is a new registry that began in 2021. It is a completely online registry system, whose main objective is to guarantee compliance of international regulations for the prevention and money laundering, as well as establishing and informing the registration authorities, the share chain that exists at each level of Nicaraguan companies, including those shareholders who are foreigners up to the natural person who is the Final Beneficiary.
She has participated in meetings with the authorities of the National Directorate of Registries to improve the Final Beneficiary registry system and adapt it to the national reality to guarantee a Registry that adheres to both the laws and the corporate practice of each company.
Articles
- Amendment to the Operating Regulations of the Registry of Final of Commercial Companies in Nicaragua: https://consortiumlegal.com/en/2023/08/07/amendment-to-the-operating-regulations-of-the-registry-of-final-of-commercial-companies-in-nicaragua/
- Registration of ultimate beneficial owner and its proper compliance in Nicaraguan commercial companies: https://consortiumlegal.com/en/2022/09/27/registration-of-ultimate-beneficial-owner-and-its-proper-compliance-in-nicaraguan-commercial-companies/
Meet our Firms and Professionals
WSG's member firms include legal, investment banking and accounting experts across industries and on a global scale. We invite you to meet our member firms and professionals.