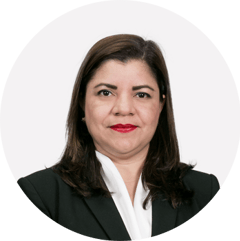 Karla Sandino
Senior Associate

Managua, Nicaragua
Local Time: Wednesday 09:31
Practice Expertise
Areas of Practice
Profile
Karla is a senior associate at Consortium Legal – Nicaragua with 23 years of experience in Corporate Tax Consulting for regulated sectors, such as the financial system, microfinance and insurance, pharmaceuticals, as well as in different industries such as mining, electricity, hydrocarbons, free zones, tourism, retail and commercial, construction, telecommunications, logistics and international transport, among others. Specialist in tax advice and comprehensive business consulting, municipal and customs.
She has participated in the design and implementation of tax and legal strategies for organizational and operational corporate restructuring, as well as acquisitions and mergers; Tax and estate planning; Processes for obtaining tax benefits and/or recovery of tax credits and tax compliance reviews; auditing/supervision processes, advice on administrative and judicial litigation.
During her career, she has worked in local and international firms specializing in tax law, as a tax consultant at EY and as Tax Manager for the B2GOLD business group in the mining sector in Nicaragua. She has been a professor at the Central American University (UCA) in tax law, tax practice and commercial law and adjunct professor for Thomas More Masters.
Education
Master's Degree in international Tax Advisory, Instituto Superior de Derecho y Economía ISDE, Spain (2014)
Master's Degree in Corporate Law with specialization in Legal Counseling of companies and Financial Market Law, Universidad Centroamericana UCA, Nicaragua (2010)
Law Degree, Universidad Católica "Redemptoris Mater" UNICA, Nicaragua (2000)
Professional Career
Significant Accomplishments
Advice on the regional acquisition of a group of companies in the financial sector with operations in all Central American countries.
Advice on the sale of a group of companies in the chemical industry, with operations throughout the region.
Advice on the regional corporate restructuring of a group in the food sector.
Advice on tax planning and compliance for a group in the mining sector.