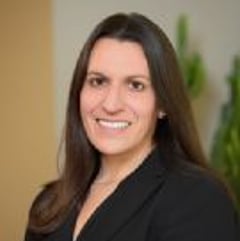 Colorado, USA
Local Time: Wednesday 03:06
Practice Expertise
Energy, Power and Natural Resources
Environmental
Litigation
Mining and Metals
Areas of Practice
Energy, Power and Natural Resources
Environmental
Litigation
Mining and Metals
Oil and Gas
View More
Profile
Kate Repko is an attorney in the Energy, Power and Natural Resources Practice Group in the Denver office of Haynes and Boone. Her practice primarily focuses on the representation of entities in environmental and commercial litigation in both state and federal courts.
Kate has extensive experience conducting witness interviews, performing legal research, drafting pleadings, and managing e-discovery. Kate believes that communication between attorney and client is essential to providing excellent service and strives to keep open communication with clients at all times.
Prior to joining the firm, Kate worked on oil and gas and mining matters, including due diligence related to the ownership and sale of mineral rights, permitting and licensing of mining activities, and the drafting and negotiation of various oil and gas and mining agreements. In addition, after working for an oil and gas operator, Kate spent several years focusing on the review and drafting of drilling and division order title opinions for clients in the DJ Basin and Marcellus Shale.
Bar Admissions
Colorado, 2012
Pennsylvania, 2010
New Jersey, 2010
Education
J.D., Duquesne University School of Law, 2010, cum laude
B.S., Virginia Polytechnic Institute and State University, 2007
Areas of Practice
Energy, Power and Natural Resources
Environmental
Professional Career
Significant Accomplishments
Successfully defended a mining company against CERLCA contribution for historic operations in USDC, District of Utah
Researched and drafted reclamation trust instruments for a mining company seeking to propose a mining reclamation trust to federal and state regulators
Researched and drafted an emergency response binder for a mining company with operations in the United States related to the transport of hazardous substances in the United States
Represented a facility owner in pursuing insurance coverage for defense and clean-up costs related to a hazardous waste discharge from its facility
Represented mining claim owners in a quiet title dispute
Conducted estate probates involving mineral interests in Colorado