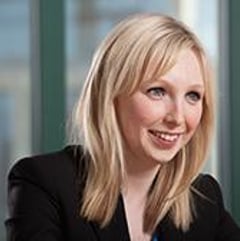 Practice Expertise
Commercial Disputes and Regulation
Corporate Restructuring and Recovery
Debt Recovery
Areas of Practice
Commercial Disputes and Regulation
Corporate Restructuring and Recovery
Debt Recovery
Profile
Laura has experience acting for both public and private sector clients, including UK clearing banks, and specialises in commercial disputes relating to finance and insolvency.
She acts for clients pursuing secured and unsecured debt; including winding up proceedings and bankruptcy/sequestrations. Her experience includes acting for secured lenders in the enforcement of securities over residential and commercial property, and raising possession proceedings / repossession actions for secured lenders. She has experience of presenting urgent petitions for winding up and seeking the appointment of provisional liquidators, along with a range of insolvency applications.
Laura advises clients, including banks, on matters such as security issues, insolvency procedures and corporate restructuring and reorganisation.
Laura has experience of a variety of proceedings in the County Court and High Court. Laura also represents clients in Sheriff Court proceedings, and has experience of a variety of Court of Session actions.
Admitted in Scotland and England and Wales.
Areas of Practice
Commercial Disputes and Regulation
Corporate Restructuring and Recovery