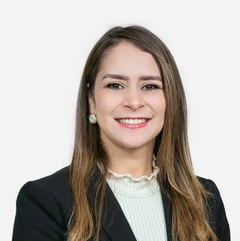 Managua, Nicaragua
Local Time: Thursday 18:28
Practice Expertise
Areas of Practice
Profile
María Lizeth is an associate at Consortium Legal – Nicaragua with 7 years of experience in legal advice in the financial sector. She has experience in corporate matters, regulatory compliance and mergers and acquisitions. She is a specialist in microfinance institutions, governance, and contractual structuring of important transactions of financial companies.
During her career she has coordinated due diligence processes for acquisitions of companies such as IC Power, a subsidiary of Kenon Holdings and Banco Procredit. She has assisted non-profit associations dedicated to promoting the integral development of young entrepreneurs at a local and international level. She recently served as in-house legal counsel for one of the leading international organizations development and microfinance sector in the region, providing legal advice in the various lines of business: microfinance, insurance, health and training.
Currently, she advises microfinance and finance companies in the formalization of loans with local and foreign creditors, in the processes of adopting good practices of regulatory compliance and implementation of financial services and digital tools in their business processes.
Education
Master of Laws, International Institute of Law and Business (INIDEM), Panamá (2018)

Law Degree (máxima cum laude), Universidad Centroamericana (UCA), Nicaragua (2016
Professional Career
Significant Accomplishments
In-house legal counsel at Pro Mujer Nicaragua in charge of corporate governance, formalization of contracts with funders, suppliers, strategic allies, regulatory compliance for implementation of products and services and legal risk management.
In the framework of digitalization and financial inclusion, she participated in the negotiation, structuring and implementation of the commercial alliance between Pro Mujer and BANPRO Grupo Promerica, which allows to simplify the disbursement process so that clients receive capital work through a mobile wallet, and they can withdraw or carry out countless operations through their cell phones such as: payroll payment, basic services, payment to suppliers and other compensation.
Legal counsel in the acquisition of Banco Procredit by Corporación Financiera de Inversiones (CFI), a company belonging to the Nicaraguan Grupo Pellas, for an amount in excess of USD 20 million, participated as part of the legal team in the due diligence process and advice on the acquisition.
Legal counsel in the acquisition of IC Power by I Squared Capital, for a sum in excess of USD 1.2 billion, participated as part of the legal team in the due diligence process and advising on the acquisition.