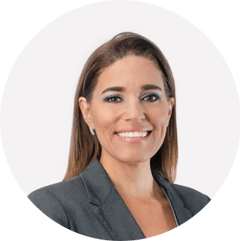 Antiguo Cuscatlan, El Salvador
Local Time: Wednesday 13:46
Practice Expertise
Banking
Corporate Law
Foreign Investment Inter Trade
Regulated Sector
Areas of Practice
Banking
Corporate Law
Foreign Investment Inter Trade
Regulated Sector
WSG Practice Industries
WSG Leadership
ESG - Environmental, Social & Governance Group - Member
WSG Coronavirus Task Force Group - Member
Profile
Maria Alejandra is a partner at Consortium Legal – El Salvador, head of the foreign investment, international trade and regulated sector. With over 20 years of experience in the legal sector, in private and public international law, corporate law and as an advisor for international public bids for national and foreign companies.
She leads a team and advises extensively in corporate law, foreign investment, infrastructure projects, international trade and regulated sector, including energy, natural resources, aeronautical and new technologies. She mainly advises private and public companies on corporate matters, strategic regional expansion, public tenders and concession contracts, as well as Private Public Partnerships developments, and provides legal support in negotiations for a wide variety of foreign investors in El Salvador. She frequently represents clients on a wide range of commercial transactions, both local and cross-border. Her client portfolio includes renowned private companies, NGO, microfinance entities, aeronautical and energy entities and multinational corporations.
Furthermore, she has served in the Foreign Service as a legal counsellor and Charge d'Affaires for the Ministry of Foreign Affairs of the Republic of Panama appointed to the Government of the Unites States of America and El Salvador.
Maria Alejandra is also involved in the pro bono and social responsibility programs at the law firm, as she assists regularly pro bono organizations, low-income communities, startups and entrepreneurs by providing free legal assistance on topics such as family law, domestic violence, labor law, immigration, litigation, and incorporation of non-governmental agencies among others.
Education
Master's Degree in International Legal Studies, American University Washington College of Law, United States (1998)
Bachelor´s Degree in Law (LLB), Universidad Santa María La Antigua, Panamá (1997)
Authorized Lawyer by the Supreme Court of Justice of the Republic of Panama and El Salvador.

Areas of Practice
Foreign Investment Inter Trade
Professional Career
Significant Accomplishments
Advisor of Cable & Wireless (Panama) in the international tender process for the 911 System and its implementation in El Salvador.
Advisor o COSAPI (Peru) on infrastructure projects in El Salvador, in the expansion of the passenger and administrative terminal of the International Airport.
Advises and strategical supports the company VOLARIS (Costa Rica and Mexico) in its incursion, start of operations and regional expansion in El Salvador.
Advises and strategical supports the AIDS Health Foundation in the process of incursion into El Salvador to international non-profit organizations that promote adequate care and medical supplies for patients and people with Acquired Immune Syndrome in vulnerable areas or with limited resources.
Professional Associations
Brazilian Chamber of Commerce in El Salvador
Panamanian Chamber of Commerce in El Salvador
FUSADES
ConnectAmericas
Professional Activities and Experience
Consortium El Salvador, current Corporate Law Chief
Consultant on Central America regional integration matters for "PAIRCA".
International Private Law Temporary Professor at the "Universidad Jose Simeon Canas", El Salvador.
Temporary Consultant at the Pan-American Health Organization.
Legal Counselor at the Embassy of Panama in the United States of America and El Salvador.
Associated Attorney in Illueca & Associates Law Firm in Panama, Republic of Panama.
Legal Rights Promoter for underdeveloped communities in Panama.
Meet our Firms and Professionals
WSG's member firms include legal, investment banking and accounting experts across industries and on a global scale. We invite you to meet our member firms and professionals.