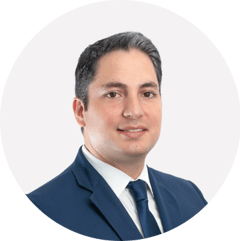 Antiguo Cuscatlan, El Salvador
Local Time: Wednesday 16:50
Practice Expertise
Arbitration
Banking
Corporate Law
Financial Law
Areas of Practice
Arbitration
Banking
Corporate Law
Financial Law
Fintech
Litigation
View More
WSG Practice Industries
WSG Leadership
Mergers & Acquisitions Group - Member
WSG Coronavirus Task Force Group - Member
Profile
Oscar is a partner of Consortium Legal - El Salvador. He has more than 16 years of experience in banking and finance, mergers and acquisitions and conflict resolution. He has extensive international experience and is frequently sought after for his expertise in multi-jurisdictional transactions.
He is a Fulbright Scholar and upon completion of his Master of Laws in Dispute Resolution from Pepperdine University, California, he worked as an international associate at King & Spalding LLP in Washington, DC.
He has led some of the largest transactions to take place in the financial sector in El Salvador, including the acquisition of Banco Agricola by Bancolombia and the acquisition of HSBC by Banco Davivienda. He recently led the acquisition by Imperia Intercontinental Inc. of Scotiabank's operations in El Salvador and the acquisition of AIG's operations in El Salvador by the Panamanian insurance company ASSA. In addition, he has advised the Republic of El Salvador on several issues in the international markets, including the largest issue inEl Salvador, and is constantly working with local and international financial institutions in structuring different types of loans for Salvadoran entities.
He is a visiting professor at two of El Salvador's leading law schools and the author of several articles on dispute resolution and banking and financial matters in legal journals and other publications.
Education
LL.M. in International Arbitration (with honors), University of Pepperdine, United States (2009)
American Legal System, Columbia University School of Law, United States (2006)
Attorney and Notary authorized by the Supreme Court of Justice of the Republic of El Salvador
Degree in Legal Science (Honorable Mention), Universidad Centroamericana Jose Simeon Canas El Salvador (2005)

Areas of Practice
Corporate Law
Financial Law
Professional Career
Significant Accomplishments
Advised Credit Suisse in the structuring of a DPR Program to Imperia Continental INC for the acquisition of the shares of Citibank in El Salvador for $100 million.
Advised Deutsche Bank and Credit Suisse as underwriters in Banco Agricola debt issuance for US$300 million.
Advised American Insurance Group (AIG) in El Salvador in the acquisition of their operations by the Panamanian insurance company ASSA by the amount of $85 million.
Advised the Panamanian branch of The Bank of Nova Scotia in a credit facility of $150 million granted to Autofacil Panama, S.A., holding company to one of the largest car dealer in the region.
Advised the Republic of El Salvador on the issuance of notes for US$601 million.
Advised Digicel International Finance Limited in the $1.35 billion US Loan financing granted by Citi as a joint book runner with JP Morgan and co-lead arranger with JP Morgan, Barclays, Credit Suisse and Deutsche Bank.
Professional Associations
International Bar Association

Professional Activities and Experience
Consortium Centro America Abogados, Legal Clerk (2004)
Articles
Additional Articles
"Public Policy Exception to the Recognition and Enforcement of Foreign Arbitral Awards under the New York Convention Pepperdine University School of Law. August. 2009.
"Guide to Legal Research in El Salvador". New York University School of Law. July 2009.
"Mergers and Acquisitions 2008. Latin Lawyer Reference. April 2008.
"El Salvador: Inheritance". Global Property Guide. Januay 2007.
"Doing Business in El Salvador" (Employment). World Bank. February 2007.
Meet our Firms and Professionals
WSG's member firms include legal, investment banking and accounting experts across industries and on a global scale. We invite you to meet our member firms and professionals.