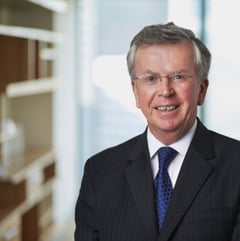 Melbourne, Australia
Local Time: Wednesday 04:18
Practice Expertise
Areas of Practice
WSG Practice Industries
WSG Leadership
WSG Board of Directors - Chair Emeritus 2008-2009
WSG Board of Directors - Chair 2007-2008
WSG Board of Directors - Chair Elect 2006-2007
WSG Board of Directors - Director 2004-2012
WSG Regional Council - Member 2004-2012
Technology, Media & Telecommunications Group - Member
View More
Profile
Every day throws up a different issue. It could involve providing around-the-clock pre publication advice to mainstream and online media; advising corporate and government clients on reputational issues; or managing threats of litigation from some of the best lawyers in the country, as well as the litigation itself. In each case, I always aim to minimise the damage clients are exposed to.
It is a privilege to be involved in many of the high-profile stories that break daily. Increasingly, social media issues are becoming central – and time is of the essence.
Career highlights
Had our team ranked Tier 1 in every international directory
Acting for leading mainstream and online publishers in Australia and internationally, including defending defamation cases for Fairfax Media Limited and the Nine Network
Represented many Government Departments, public servants and politicians, when threatened with defamation actions
Domain – defended claims of misleading and deceptive conduct brought by realestate.com.au
Qantas Group – worked on a large volume of deep vein thrombosis cases against the airline in the highest courts in Australia, the UK, and the US.
Served on the MinterEllison Board for more than 20 years and was elected Chair
Chaired and served on many boards related to government and the media including Melbourne Sports and Aquatic Centre Trust, State Sports Centres Trust and Melbourne Recital Centre Board
Currently serving as Chair of the Legal Practice Division of the International Bar Association, overseeing over 100 Business related Committees.
Education
BJuris, LLB
Professional Career
Professional Associations
Advisory Board member to the Journal of International Media and Entertainment Law of the American Bar Association Forum on Communications Law
International Committee, Media Law Resource Centre (MLRC) New York, member
Ethics Committee, member, Media Law Resource Centre (MLRC)
Life Member, Melbourne Press Club
Council of Court Reporting, member, Supreme Court of Victoria
Media Judiciary Liaison Group, member, Supreme Court of Victoria
Member, Australian Olympic Committee, National Federation Appeals Tribunal
Fellow, Centre for International Legal Studies, Austria
Media and Communications, Committee, member, Law Council of Australia
Centre for Advancing Journalism, Chair Advisory Board, Melbourne University
Assistant Treasurer, International Bar Association (IBA)
Member IBA Council , Management Board, Risk and Audit Committees, New Media Working Group
Board Member, Melbourne Recital Centre
Member Strategy Board, World Services Group
Articles
Four lessons for media companies after major defamation payout


Following the largest defamation payout to a single person in Australian history, we outline some key lessons for media companies and journalists.

Legal profession's recommendations on improving pandemic management in law


The International Bar Association's COVID-19 Legal Policy Task Force has released a report recommending law reforms to improve the global response to pandemics.

An expensive Facebook rant


A Federal Court judge has awarded $875,000 in damages for a series of defamatory Facebook posts. This case illustrates that significant defamation payouts are no longer reserved for large media organisations. This article considers the steps you can take to ensure your organisation is protected.

Freedom of the press in the age of secrecy


We consider the proposed reforms in the Parliamentary Joint Committee on Intelligence and Security review.

ALRC issues discussion paper on serious invasions of privacy in the digital era

Six legal considerations to keep your podcast streaming


Is your podcast starting to take off? To avoid problems with your podcast in the future, don't forget to consider your legal risks.

Peter Bartlett appointed co-chair of IBA's Legal Policy Task force to tackle COVID-19


The International Bar Association (IBA) has formed an executive task force to assess policies relating to COVID-19 responses.

Google held to be a publisher of defamatory Autocomplete and Related Search terms

MinterEllison Partner Peter Bartlett appointed as IBA Legal Practice Division Chair


Mr Bartlett will be the first person from Asia-Pacific to hold the position.

ACCC calls for privacy law reform and a move towards GDPR-style privacy laws


The ACCC's Digital Platforms Inquiry Final Report (Report) confirms what is already clear – there is a proliferation of digital data and the broad range of ways that organisations (not only digital platforms) now use data has resulted in a complex inter-relationship between innovation, data commercialisation, privacy rights and consumer rights.

According to the ACCC, amendments to the Privacy Act are necessary to address an imbalance that have arisen in these relationships.

IBA Rome: taking on a global focus


With the countdown on to the International Bar Association (IBA) conference in Rome in October, MinterEllison partner Peter Bartlett – who serves as the treasurer of IBA and the Legal Practice Division Secretary-Treasurer – reflected on some of the great opportunities ahead.

Reforming Australia's outdated defamation laws: MinterEllison submission
Our submission to the Council of Attorneys-General Review of the Model Defamation Provisions calls for greater protection for freedom of expression under Australia's defamation laws, which are strongly slanted in favour of plaintiffs and represent a pervasive limitation on journalism.
Landmark defamation decision: Facebook page hosts now liable for comments
A landmark court decision is likely to have profound implications for hosts of public Facebook pages in Australia.
ACCC seeks to restore balance in the media industry
The ACCC's Digital Platforms Inquiry Final Report (Report) has made recommendations that could significantly impact the regulation of the media industry and digital platforms, and the future for media organisations in the digital era.
False Information in the Time of Coronavirus: Law and Regulation in the U.S. and Australia


False or mising information in the media is not a new phenomenon but during the coronavirus pandemic, governments around the world have sought to enact new laws and regulations, or to strengthen existing rules, in order to address it.

National defamation law reform: Changes considered


Australia's outdated defamation laws have long been slanted in favour of plaintiffs. However, the 'plaintiff's bonanza' may be somewhat tempered by the recent passage of the Defamation Amendment Bill 2020 (NSW) on 6 August 2020.

IBA Conference coming to town reflects high regard for Australian firms


A message from the Treasurer of the IBA, Peter Bartlett

VLRC Contempt of Court Report implications for the media


The Victorian Law Reform Commission's proposed a shake-up of the common law contempt of court framework holds troubling implications for Australia's already stark media landscape. Our team analyses the implications.

ACCC calls for competition reforms that will impact digital platform operators and beyond
The ACCC has concluded its long-running Inquiry into digital platforms in Australia. It set out its findings and a detailed set of recommendations in its final report released on 26 July 2019.

High profile and high stakes
MinterEllison is regularly called upon to contribute its expertise on media law for some of the country's biggest media names, including Fairfax, BuzzFeed, Private Media, the ABC, SBS and International Media companies.
Hinch goes to the High Court (and loses)

How journalists can reduce defamation risk


A recent decision illustrates some of the steps that journalists can take to improve their prospects of being protected by qualified privilege.

A tweet that wasn't so sweet – court orders $105,000 in damages for defamatory tweets and Facebook posts

Regulating the comment section: The 'Anti-Trolling' Bill


The government is proposing new laws to regulate online speech. The laws would put greater onus of responsibility on social media platforms as primary publishers of the content posted on their sites.

High Court decision makes companies liable for defamatory Facebook comments


In a landmark defamation case, the High Court of Australia has held that media companies are 'publishers' of the comments by third-party Facebook users on their Facebook posts.

Protecting your corporate reputation during a crisis
Picture this: you are just about to grab a coffee during a busy day when your phone rings. You answer the call. A reporter is on the line and you are about to be tomorrow's front page news for all the wrong reasons. A crisis is breaking ... how do you respond? This article gives guidance on how you should handle the media during a crisis and rebuild your reputation after a crisis.
Putting the brakes on costly internet defamation cases? The decision in Bleyer v Google Inc

Online anonymity is not guaranteed: Google ordered to identify user behind online review
A new case, where the Federal Court of Australia ordered Google to reveal the identity of an anonymous user who posted an allegedly defamatory review, will have implications for how people post reviews online.
Meet our Firms and Professionals
WSG's member firms include legal, investment banking and accounting experts across industries and on a global scale. We invite you to meet our member firms and professionals.