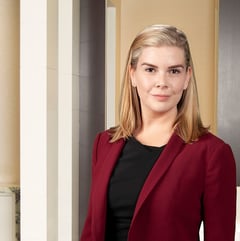 Georgia, USA
Local Time: Wednesday 21:11
Practice Expertise
Insurance Coverage
Cyber Insurance
Litigation
Areas of Practice
Cyber Insurance
Insurance Coverage
Litigation
Profile
Rachel represents policyholders in complex insurance coverage litigation and provides risk transfer advice.
Rachel has litigated hundreds of insurance coverage and bad faith claims in state and federal courts across the country and U.S. territories brought under a spectrum of insurance policies issued to individuals, public and private corporations, and government entities. Rachel's success comes from cases ranging from the ordinary, such as storm-damaged properties, phishing-related data breaches, and wrongful employment termination, to the extraordinary, such as grand jury investigations, parasailing-related injuries, fraternity party injuries, blockades at the Indian-Nepali border, mass livestock deaths, exploding e-cigarettes, art provenance investigations, and free-fall drops at county fairs. Most recently, she has advised clients in a variety of industries on COVID-19 losses under first-party property and business interruption policies. No matter what the issue, Rachel helps her clients maximize their available insurance recovery.
Relevant Experience
Representing hospitality and healthcare clients in coverage litigation throughout the country for COVID-19 insurance recovery claims, including appeals.
Handled complex, open market claims under insurance towers up to $2 billion total insured value.
Lead counsel in consolidated litigation and administrative proceedings before the Banking, Insurance & Financial Regulation Division of the U.S. Virgin Islands Lieutenant Governor's Office related to coverage for Hurricanes Irma and Maria claims.
Representing major petroleum pipeline in insurance coverage actions in federal courts concerning recovery from pollution legal liability insurers for benefits owed arising out of environmental incident.
Conducts comprehensive insurance audit to identify coverage issues and gaps in insurance programs for solar and off-shore wind projects.
Advises clients through claims process under property, business interruption, commercial general liability (CGL), pollution legal liability (PLL), D&O, E&O and other professional liability, employment practices (EPLI), cyber, crime, fidelity, and other insurance policies.
Represented a non-profit advocacy organization as amicus curae in an appeal to the Montana Supreme Court to enforce an insurer's duty to defend and indemnify its policyholder, the State of Montana, in actions related to asbestos claims arising from the Libby Mine. National Indemnity Co. v. State of Montana, No. 19-05337 (Mont. Nov. 23, 2021). The Montana Supreme Court upheld the lower court's application of "all sums" allocation, specifically citing amicus curae's briefing on the issue.
Education
BA, Emory University, Alpha Kappa Delta Honor Society, 2008
Articles
Riot-Related Damage, Income Losses Covered Under Most Business Owners' Policies, Daily Business Review
Purported COVID-19 Class Actions Face Big Hurdles, Daily Report
Federal Courts Make 2 Basic Errors In Virus Coverage Rulings, Law360
Landmark Montana Supreme Court Decision Series: The Duty to Defend, The ALI Adviser
Insurer's Duties to Defend and Indemnify: Georgia, Thomson Reuters Practical Law
Just Because? COVID-19 Coverage under General Liability Insuring Agreements, Insurance Coverage Law Center
Massachusetts Considers an Act Concerning Business Interruption Insurance, Insurance Coverage Law Center
Three Key Things in Health Care
Meet our Firms and Professionals
WSG's member firms include legal, investment banking and accounting experts across industries and on a global scale. We invite you to meet our member firms and professionals.