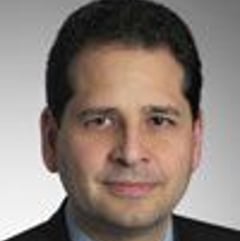 Ricardo Garcia-Moreno
Partner

Texas, USA
Local Time: Wednesday 12:17
Practice Expertise
Corporate Governance
International
Ship Sale and Purchase
Areas of Practice
Corporate Governance
International
Ship Sale and Purchase
Capital Markets and Securities
Chemical
Debt and Equity Financing
Distressed M&A
Downstream
Energy, Power and Natural Resources
Latin America and the Caribbean
Mergers and Acquisitions
Mexico Energy Reform
Oil and Gas
Oilfield Services
Portfolio Companies and Investors
Private Equity
Technology Mergers and Acquisitions
View More
WSG Practice Industries
WSG Leadership
WSG Regional Council - Member
DealMaker Group - Member
Mergers & Acquisitions Group - Member
Profile
Ricardo Garcia-Moreno is the administrative partner of the Houston office of Haynes and Boone and practices corporate law with an emphasis on cross-border mergers and acquisitions, energy, securities law compliance and corporate governance. He has more than 24 years of experience representing U.S., European and Latin American clients in domestic and international transactions involving mergers, acquisitions and divestitures; investments; joint ventures; capital markets transactions, including public, Rule 144A and private placements of equity and debt securities; and acting as "outside general counsel" to public and private companies. His legal work has been recognized by Latinvex, which named him one of the top 100 Latin American lawyers in 2019.
Ricardo also has a broad-based sports practice representing sports teams, owners of public assembly, sports, entertainment and recreational facilities, and companies that provide various goods and services to sports teams and facilities involving preparation and negotiation of various agreements relating to the development, use, marketing and operation of public assembly, sports, entertainment and recreational facilities.
Ricardo is a committed civic servant to the Houston community through his pro bono legal work and service to Texas charter schools. Also, he has been ranked as a leading lawyer by Best Lawyers in America, Woodward/White, Inc., for Corporate Governance and Compliance Law and Leveraged Buyouts and Private Equity Law from 2008-2011 and Sports Law from 2012-2019, Texas Super Lawyers, Thomson Reuters, from 2010-2013 and he received a Martindale Hubbell client review rating of 5.0 out of 5 Preeminent in 2010.
Bar Admissions
Texas
Education
J.D., University of Texas School of Law, 1994
B.B.A., Marketing and International Business, University of Texas at Austin, 1991
Areas of Practice
Corporate Governance
International
Ship Sale and Purchase
Capital Markets and Securities
Chemical
Debt and Equity Financing
Distressed M&A
Downstream
Energy, Power and Natural Resources
Latin America and the Caribbean
Mergers and Acquisitions
Mexico Energy Reform
Oil and Gas
Oilfield Services
Portfolio Companies and Investors
Private Equity
Technology Mergers and Acquisitions
Professional Career
Significant Accomplishments
Acquisition
Represented Halliburton Energy Services, Inc., a public oilfield services company, in the acquisition of Ingrain, Inc., a rock physics company with operations throughout North America and the Middle East.
Acquisition Program
Represent a NYSE-listed company in its serial acquisition program, including acquisition of more than 50 companies throughout the United States.
Sale of Public Company
Represented Consolidated Graphics, Inc. (NYSE) in merger transaction whereby it was acquired by R.R. Donnelley & Sons Co. (Nasdaq)
Sale of Private Company
Represented individual shareholders in the sale of Computex, Inc., an IT network infrastructure and a hardware company, to a private equity fund.
Divestitures
Represented affiliates of Royal Dutch Shell plc in the sale of its downstream business in Argentina to Raízen for US$916 million. This includes the Buenos Aires Refinery (the third largest in Argentina), around 665 retail stations, liquefied petroleum gas, marine fuels, aviation fuels, bitumen, chemicals and lubricants businesses, as well as supply and distribution activities in the country. This transaction was honored by The M&A Advisor at the 11th Annual International M&A Awards as the "2018 Cross Border Deal of the Year (over $1.0 billion)."
Represented Royal Dutch Shell in the sale of its downstream businesses in Honduras, Guatemala, Nicaragua, El Salvador, Panama and Costa Rica, as well as the sale of two joint venture interests involving refinery and terminal storage facilities.
Represented American Electric Power Company, Inc. in the sale of its inland marine barge division, including advice on the transfer of intellectual property, information technology, and software.
Represented ABS Group of Companies, Inc. in the divestiture of US subsidiaries and international operations in the United Kingdom and France.
Represented NYSE Company in the sale of its commercial saltwater completion division to another publicly traded company.
Acquisition of Division
Represented Traxys, a worldwide metals and natural resources trader based in Luxembourg, in its purchase of CMC Cometals, the industrial raw materials division of Commercial Metals Company.
Represented an NYSE-listed company in acquisition of a division of a public company.
Public and Private Offerings
Represented a New York Stock Exchange listed company in an initial public offering, secondary equity offering, 144A debt placement and exchange offer, and public debt transaction.
Investments
Represented foreign nationals in multiple private-equity investments and real estate developments in the United States.
Financing and Acquisition
Represented investor group in equity and debt offering and subsequent acquisition of a pipeline construction business.
Joint Ventures
Represented publicly traded company in formation of a joint venture involving mid-stream and downstream assets.
Represented NYSE-listed company in establishing a manufacturing business in Japan.
Strategic Alliances
Represented NYSE-listed company in negotiation of strategic alliance agreements with United Kingdom and Brazilian companies.
Acquisition of Communications Infrastructure
Represented NYSE-listed company in acquisition of European cellular tower portfolios