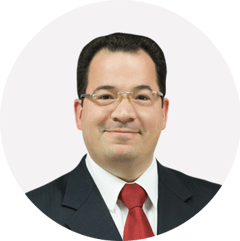 Rodrigo Taboada
Head of Banking and Finance Department

Managua, Nicaragua
Local Time: Wednesday 09:40
Practice Expertise
Banking and Finance
Corporate Law
Fintech
Regulatory Compliance
Areas of Practice
Banking and Finance
Corporate Law
Fintech
Regulatory Compliance
WSG Practice Industries
WSG Leadership
DealMaker Group - Member
Banking & Finance Group - Member
Emerging Leaders Group - Member
Mergers & Acquisitions Group - Member
Profile
Rodrigo is a partner at Consortium Legal - Nicaragua, with more than 25 years of experience in corporate and finance. He has expertise in foreign investment, mergers & acquisitions and banking, advising relevant international and local transactions that generate major impacts in the region. Rodrigo has assisted several foreign investors to start operations in Nicaragua. He has also assisted with the acquisition of many companies that operate in different industries, such as mining, retail, finance, etc. He provides ongoing advice to financial institutions in the execution of guaranteed and unsecured credit lines, subordinated agreements, regulatory matters, among other financial issues. He has participated in syndicated loans, with the formalization of documentation subject to local laws, including local guarantees. In recent years, Rodrigo has been advising many entities that are interested in providing Fintech services in the country.
He has been a professor of securities markets in Master Programs in Business Administration. Author of several articles and publications related to foreign investments, transparency in financial services and compliance issues for international publications, including the International Financial Law Review (IFLR) and Law Business Research of England.
Work Highlights
* Advised the Lenders an incremental revolving facility commitment for US$75 million
* Advice on the increase in credit line granted by an international financial institution to US $ 114 million.
* Financing of acquisition by investment fund of a series of companies that operate under the Free Trade Zone Regime for US$90 million.
* Legal advice to international bank as Administrative Agent and Principal Arranger of credit facilities and the IDB, for US$100 million.
Bar Admissions
1996, Chile; 1997, Nicaragua
Education
- Mergers and Acquisitions Course, Georgetown Law Center, United States (2009)
- Master of Laws with emphasis in Corporate Law, New York University (NYU), United States (2000)
- Postgraduate in Financial Management (cum laude), Universidad Centroamericana de Ciencias Empresariales (UCC), Nicaragua (1998)
- Law Degree, (graduate with distinction) Pontificia Universidad Catolica de Chile, Chile (1996)
Professional Career
Professional Associations
American Bar Association
International Bar Association