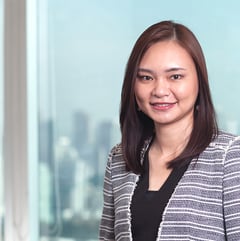 Somruetai Noppornprom
Counsel

Bangkok, Thailand
Local Time: Saturday 15:17
Practice Expertise
Capital Markets and Securities
Banking and Finance
Mergers and Acquisitions
Corporate
Areas of Practice
Banking and Finance
Capital Markets and Securities
Corporate
Mergers and Acquisitions
Profile
Somruetai focuses on capital markets and securities, cross-border mergers & acquisitions, banking and finance, and financial services transactions in a number of industries.
With extensive experience spanning over twenty years, Somruetai has been involved in projects of varying sizes and scopes. She has led and advised one of Thailand's leading telecommunications companies on matters ranging from contracts and commercial transactions to projects and financial services.
Relevant Experience
Banks and Financial Institutions Representations
Multilaterals. Advising IFC in respect of certain investments/ projects in Thailand.
Foreign Banks. Advising JP Morgan as to certain Thai regulatory matters, including its first issuance of derivative warrants in Thailand.
Local Commercial Banks. Advising The Siam Commercial Bank Public Company Limited, Krung Thai Bank Public Company Limited, KASIKORNBANK Plc and other Thai commercial banks, including:


Advising two Thai-based commercial banks on THB 6,500 million syndicated facilities granted to the development company for the construction of a shopping center in Bangkok.
Advising two Thai commercial banks as lenders on THB 5,500 million facilities granted to a power company for construction of cement line 4 projects.
Advising a Thai commercial bank and a Japanese commercial bank on the THB 1,500 million granted to a Thai-based company for the cross-border acquisition of a gas company in China.

Advising State Street on financial services/regulatory issues, and their licensing arrangements with the Bank of Thailand and other relevant government agencies.
E-Payment and Financial Services
Advise Total Access Communication Public Company Limited (dtac), one of the leading telecommunications operators in Thailand, and its e-payment subsidiary, PaySbuy Co., Ltd., on electronic payment licenses and regulatory issues. Our work includes approaching the Bank of Thailand for an amendment of its current regulations.
Provided legal advice on Thai regulations regarding e-payment to Tencent Holding Limited, one of the largest internet companies in China.
Investments in Startup and FinTech Companies
Represented Tencent Holdings Limited (SEHK 700), a leading provider of internet value-added services in China, in the investment in a new business venture related to user generated content in Thailand by partnering with a leading digital and user generated content platform in Southeast Asia, Ookbee Company Limited to establish a new company, Ookbee U Company Limited. The new company will be providing a digital content platform under 'Content Ecosystem' for user-generated content or UGC with the expectation of 12 million monthly active users in the next two years.
Represented Funding Societies Pte. Ltd. as Thai legal counsel in respect of the submission of an application and required supporting documents to the Office of the Securities and Exchange Commission of Thailand for obtaining license to operate the crowdfunding portal in Thailand.
Capital Markets
Represented Thailand's leading provider of mass transit solutions in connection with its reverse listing in the Stock Exchange of Thailand and the issuance of debentures.
Represented a leading Pharmaceutical company in Thailand on its initial public offering and listing on the Stock Exchange of Thailand.
Represented an IT content provider in its initial public offering and listing in the Stock Exchange of Thailand.
Participated in several structured finance transactions involving debentures and mutual funds under the Securities and Exchange Commission (SEC) regulations for a major US investment bank.
Served as issuer's counsel to a property fund on the structured bond refinancing of a five-star resort in Hua Hin, Thailand worth US$30 million.
Represented an affiliate of a US investment bank in connection with a THB 650 million private placement bond issuance by a hotel operator in Phuket, Thailand.
M&As and others
Acted as counsel to Tate & Lyle PLC on its acquisition of 85% of shares in a modified starch manufacturer in Thailand.
Acted as counsel to a retail client among Thailand's five largest business groups on its acquisition of the land owned by the British Embassy in Bangkok for approximately THB 3 billion (US$78 million), which made the transaction the most expensive property sale per square meter in Thailand's history.
Assisted a major listed Thai petrochemical company in its amalgamation and merger valued at US$820 million with another major listed Thai petrochemical company.
Represented a Thailand-based company engaged in the manufacture and export of frozen and canned seafood in its acquisition of a seafood manufacturer in Europe for THB 28.5 billion (US$883 million or EUR 680 million) from a global private equity firm.
Represented an affiliate of a US investment bank in connection with the THB 2.97 billion acquisition and construction of a Board of Investment (BOI) promoted 6-star resort in Phuket, Thailand. The representation involved due diligence and acquisition structuring, multitranche senior debt facilities, mezzanine financing, BOI work, international hotel operating agreements, and joint venture arrangements (sponsor's counsel).
Bar Admissions

Education
LLB, Thammasat University, 2000
Areas of Practice
Capital Markets and Securities
Professional Career
Professional Associations
Extraordinary Member, Thai Bar Association
Lawyer's License, Lawyers Council of Thailand