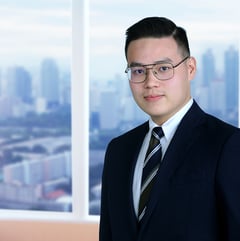 Supadith Palungteapin
Associate

Bangkok, Thailand
Local Time: Saturday 15:31
Practice Expertise
Corporate
Mergers and Acquisitions
Capital Markets and Securities
Areas of Practice
Capital Markets and Securities
Corporate
Mergers and Acquisitions
Profile
Supadith focuses his practice on mergers and acquisitions, capital markets and securities, technology and privacy, and corporate and commercial matters.
He assists both Thai and multinational clients with various corporate and commercial matters, including advising and representing them on a number of transactions involving strategic M&A transactions, involving due diligence investigations, drafting agreements and transaction documents as well as closing arrangements.
His experience includes advising Thai listed companies and foreign entities with respect to capital markets and securities including aspect of M&A transactions and regulatory compliance as well as advising multiple clients including leading SET-listed companies and tech-startups in respect of technology and data protection laws.
Relevant Experience
Mergers and Acquisitions
represented a Thai leading telecommunication business company in its share acquisitions of several start-up companies
represented a venture capital company which is a wholly-own subsidiary of a leading commercial bank of Thailand, in its share acquisition of several start-up companies
represented a leading provider of internet value-added service in China, in the investment of a new business venture with a leading digital and user-generated content provider in Southeast Asia to establish a JV
represented a leading SET-listed company in its share acquisition of a leading renewable energy power producers
represented a SET-listed digital media and news agency company in its share acquisition of a leading product and service operator
represented a Thai leading power, real estate and utilities business company in its share acquisition of a company operating high-end real estate development projects (including condominium, office buildings and commercial areas) in Cambodia
Capital Markets and Securities
advised a global alternative asset management company regarding regulations with respect to the provision of investment advisory service under the Securities and Exchange Act of Thailand for its marketing purpose in Thailand
advised a SET-listed company in the pre-litigation stage in relation to the possible legal actions to the directors and executives on the ground of breach of fiduciary duties and related party transaction laws
advised foreign potential investors in respect of private placement of foreign shares and warrants of a foreign special purpose acquisition company and marketing of private placement of foreign shares to be conducted in Thailand
advised a leading securities company regarding the roles, obligations and liability with respect to the financial advisor under the IPO regime
Technology and Privacy
advised a European multinational online food-delivery service operator in relation to electronic payment laws and corporate structure in terms of legal implications in respect of the "Food Panda" platform in Thailand
acted as counsel to a leading SET-listed international manufacturer and distributor of pharmaceutical and nutraceutical products in respect of regulatory compliance with respect to data protection laws
acted as counsel to peer-to-peer lending service providers in respect of legal implementation including providing legal advice with respect to relevant laws (including peer-to-peer lending service laws, data protection laws, electronic transactions laws); drafting relevant legal documents (including terms of service, privacy notice and consent form); reviewing the platform in terms of legal implications; liasing with the government authority in obtaining the peer-to-peer lending service license
Corporate Service
acted as counsel to several leading business operators in respect of the corporate and commercial matters including rendering legal advice, drafting, reviewing and revising various commercial agreements and legal documents (including asset sale and purchase agreement, business collaboration agreement, service agreement, privacy notice, terms of service)
Education
LLB (Hons, First Class), Chulalongkorn University, 2018
Areas of Practice
Capital Markets and Securities