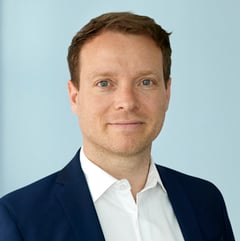 Thomas Pitzner-Jørgensen
Partner

Copenhagen, Denmark
Local Time: Tuesday 15:59
Practice Expertise
Areas of Practice
Profile
Thomas Pitzner-Jørgensen is a partner in our Corporate Finance team advising on Danish and international M&A, including corporate law matters and venture capital investments. 
Thomas has extensive experience from large and medium-sized private M&A transactions representing buyers or sellers, in recent years especially in connection with international cross-border deals involving multiple jurisdictions and adviser teams.
From 2019 - 2022, Thomas was also an external lecturer at the University of Copenhagen, Faculty of Law, where he taught the course "Mergers & Acquisitions". 
Highlights
EMK Capital/Egiss - Egiss' acquisitions of Refurb and Scriptor Technology
Medius AB - Marlin Equity Partners' divestment of a minority stake in Medius AB to Advent International
Hunkemöller International B.V. - Carlyle Group's divestment of Hunkemöller to Parcom 
KloAgger A/S - sale of Kloagger A/S to Recover Nordic
Serman & Tipsmark - Sanistål's sale of Serman & Tipsmark A/S
The Many A/S - The Many A/S' sale to Selected Group A/S
Webshipper ApS - nShift Group AS' acquisition of Webshipper
Lautrup Chemicals - One Rock Capital Partner's acqusition of Lautrup Chemicals
Burmeister & Wain Scandinavian Contractor - sale of BWSC's ACT business  
Obsidian Group - sale of Obsidian Group to Capidea 
Malgodt - sale of Malgodt to Flugger group A/S
Ikano Bank AB - Ingka Holding B.V.'s acquisition of Ikano Bank A/S
A/S Dansk Shell - Postlane Strategic Partners, LLC's acquisition of A/S Dansk Shell
nShift - Marlin Equity Partners' acquisition Unifaun and subsequent merger with Consignor into nShift Group 
Prime Cargo - Mitsui-Soko Holdings Co Ltd's sale of Prime Cargo to DSV Panalpina A/S
Kongsberg Coach Solutions - Kongsberg Digital A/S' acqusition of Kongsberg Coach Solutions
Wax Digital Limited - Marlin Equity Partners' acqusition of Wax Digital Limited 
PDH Music A/S - Live Nation Entertainment's acquisition of PDH Music A/S 
Heimdal Security - Marlin Equity Partners' acquisition of Heimdal Security A/S  
Kelsen Group - Ferrero's acquisition of Kelsen Group 
360 North Property Management ApS - Blackstone Group L.P.'s acquisition of 360 North Property Management ApS
Zleep Hotels - Steigenberger's acquistion of the majority of shares in Zleep Hotels
Glyngøre - Orkla Foods Danmark's sale of Glyngøre to Amanda Seafoods A/S 
Stjernegaard Rejser - sale of Stjernegaard Rejser to Aller
Saxo Payments - sale of Saxo Payments to EQT 
Sanistål - sale of Sanistål steel business to Tibnor AB
Brunata - Fischer-Hansen family's sale of Brunata group
Too Good To Go - venture investment and Founders' divestment of shares in Too Good To Go
Unifeeder - Nordic Capital's sale of Unifeeder group
Stark - Ferguson Group's sale of Stark
K-Salat - Orkla Food Danmark's sale of K-Salat 
Dangroup - Agilitas' acqusition of Dangroup