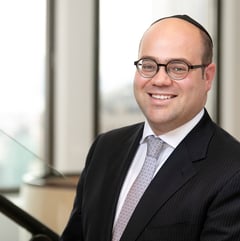 New York, USA
Local Time: Saturday 04:32
Practice Expertise
Commercial Real Estate Lending
Acquisitions and Dispositions
Finance and Restructuring
Leasing
Areas of Practice
Acquisitions and Dispositions
Commercial Real Estate Lending
Finance and Restructuring
Leasing
Real Estate, Development and Finance
View More
Profile
Yehuda is an associate in the firm's capital finance and real estate team.
Yehuda's practice focuses on representing financial institutions, owners and developers in a broad range of commercial real estate transactions, including acquisitions and dispositions, real estate finance, real estate development and corporate formation. Yehuda also represents tenants in connection with long-term leases. He has experience with various asset types including office buildings, shopping centers, development sites and multi-family residential complexes.
Relevant Experience
Represented a syndicate of real estate investors in connection with the $12.5 million refinancing of its existing mortgage debt secured by a property located in the Upper West Side of Manhattan and consisting of a residential rental apartment building with a retail component on the ground floor.
Represented a financial institution in connection with the origination of a $92.9 million acquisition mortgage loan secured by 190 condominium units primarily consisting of luxury residential space in a mixed-use development located in West Hollywood, California.
Represented a full-service travel center company with the $308.2 million purchase of 20 truck stops located in multiple states. The transaction involved the negotiation of three separate transaction agreements, multiple lease amendments and property level diligence for each property.
Represented a financial institution in connection with a mortgage loan in the maximum amount of $48.5 million, secured by an apartment complex in Mesa, Arizona. In order to accommodate an equity investment from a Kuwait-based bank, the loan was structured with a Sharia-compliant master lease.
Represented a real estate developer in the $146 million refinance of a twelve story office building located in the heart of the District of Columbia's Foggy Bottom neighborhood.
Represented a real estate joint venture with an $18 million loan for the acquisition of two multifamily properties in Manhattan.
Education
First Talmudic Degree, Mesivta Chaim Berlin Rabbinical Academy, 2011
Areas of Practice
Acquisitions and Dispositions
Commercial Real Estate Lending
Finance and Restructuring
Real Estate, Development and Finance