SyCipLaw's Doing Business in the Philippines: A General Guide (2020 Update)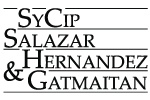 SyCip Salazar Hernandez & Gatmaitan's (SyCipLaw) publication about the general guidelines in doing business in the Philippines has been updated. It aims to showcase the Philippines as an attractive venue for business ventures, to guide the businessmen and lawyers alike in their business decision making, and to help investors restart the Philippine economy in connection with the lifting of certain COVID-19-related quarantine restrictions.
The guide was first published in 2015, when the firm celebrated its 70th anniversary. This 2020 edition was prepared in connection with SyCipLaw's 75th anniversary celebrations.
The updates include the changes in the requirements to set up a corporation based on the Revised Corporation Code of the Philippines (Republic Act No. 11232) and the recent issuances of the Philippine Securities and Exchange Commission, which intend to make it easier to do business in the Philippines.
SyCipLaw partners Bhong Paulo A. Macasaet and Joan Mae S. To-Conejos prepared the updated version, with the assistance of legal assistants Kevin Joseph C. Berbaño, Raymond Joseph S. Garcia, and Ma. Jhysty G. Pineda. Other SyCipLaw lawyers who have worked on the guide are Franco Aristotle G. Larcina,Hiyasmin H. Lapitan,Maria Jennifer Z. Barreto and associate, Michael Trance Joseph M. Nuñez.
This publication is intended to provide a general discussion of the legal framework for establishing business presence in the Philippines. It is only a guide material and is circulated for information purposes only. SyCipLaw assumes no responsibility for the accuracy, completeness or timeliness of any information provided in this brochure. It does not constitute legal advice of SyCipLaw or establish any attorney-client relationship between SyCipLaw and the reader. It is not a substitute for legal counsel. The reader should not rely solely on the contents of this material, nor act on the basis thereof, without having sought complete professional advice specific to the transaction.
Link to article
MEMBER COMMENTS
WSG Member:
Please login to add your comment.